We all know the pencil very well. People use it every day, whether for writing, drawing, and more. However, some pencils like the standard graphite pencil, colored pencil, and charcoal pencils might be too inconvenient and limited to some people's creativity. Switching to different pencils every time you do other parts of your artwork may be too inconvenient. If this is a problem of yours, why not try the watercolor pencil?
Best Choice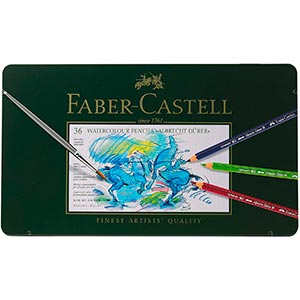 Faber-Castell Albrecht Durer Watercolor Pencils
Overall Best Watercolor Pencils
We have found this watercolor pencil set to be the best choice for anyone since it can work with everybody and deliver similar results. You don't need to be a pro to get unique illustrations, and you don't have to be a beginner to learn how to use a watercolor pencil all over again. This kit delivers vivid colors, a comfortable pencil grip, excellent resistance to fade, and color-shifting, which might be an essential tool for professionals selling their art.
Check Price
What to Look for When Buying Best Watercolor Pencils
Here are some terminologies that have specific meanings when it comes to watercolor pencils. Use this guide to determine the best deal for you.
Number of Colors
The number of colors included in a pack is probably the most significant variable with the kit's price. More colors typically mean more expensive. If the watercolor pencil is easy to mix, then it's fine getting fewer colors. If they're not easy to mix, then go with more colors.
We recommend getting at least 24 colors in a kit.
Brand
Some people might say that the brand doesn't matter, and performance is all that matters. In art materials, you should always take a look at the brand that makes your art materials. Some brands are centuries old, and those brands might be more dedicated to their craft, and some brands might be specialized in making certain materials for specific uses.
Grade
Grade refers to a watercolor pencil's overall performance, and it suggests if it's suitable for beginners, pros, or for everyone. Get the kit that corresponds to your skill, and it will also help you dedicate a specific budget for your next set.
Permanence
Watercolor pencils do not use the term permanence to determine their fade resistance. Instead, it uses the term lightfastness, which refers to the resistance of the watercolor to fade. Watercolors, including those in pencil form, are fragile to light, and some will quickly fade as fast as a few days. Get the ones with the best lightfastness for preserving your artwork longer.
Shape
Pencils come in many shapes and sizes, some are thicker, and some are thinner. Pencils have wood cores that come in different forms, and the most common ones are hexagonal, round, and triangular. Each individual will be more comfortable with different shapes. Get the ones you're most comfortable on to get the best performance in detail and prevent fatigue.
Pencil Types
Watercolor pencils have different types of cores, some are oil-based, and some are wax-based. For watercolor pencils, both are water-soluble. Although wax-based watercolor pencils are a bit softer, making them more susceptible to breakage, wax-based pigments blend easier. In contrast, oil-based pencils are a bit harder and better for details, but not the best for mixing.
Best Watercolor Pencils
Watercolor pencils are an exciting medium. They look and feel like your standard colored pencils. But, these can do much more than the traditional pencils. You can use these for either fine details or covering areas, wet or dry. There are tons of watercolor pencils out there, but the most common ones are not even artwork worthy. Most of them are made for kids and the likes. So here are the best ones we'll recommend in different aspects.
1. Faber-Castell Albrecht Durer Watercolor Pencils – Overall Best Watercolor Pencils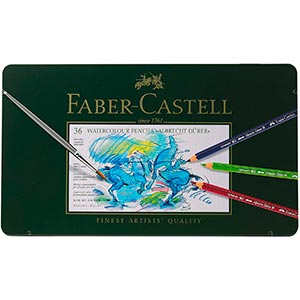 First Impressions
As a kit from Faber-Castell, my hopes are high with this Albrecht Durer Set. Faber-Castell is known as a long-time master in creating pencils and other art materials, and they have been one of the best for centuries now. This set is named as a tribute to the German artist Albrecht Durer, one of the most prominent painters in German history.
The kit itself comes in a metal tin pack that you can reuse for a refill pack or for storing other materials, and the metal tin is also hinged, which some artists might like. This kit has 36 pencils that are all bright, vivid, and every color included are versatile and can be used for various art styles.
Performance
Watercolor Pencils commonly have leads that are essentially made from solidified watercolor pigments. This might result in the pencil's tip being more brittle, softer, and a bit more delicate to work with. Fortunately, some brands like Faber-Castell make sure that their pencils can withstand tons of beating.
This Albrecht Durer kit is one of the higher-end pencils Faber-Castell makes, and I think it's a bit underrated after seeing that not many people know about it. These pencils are all easy to use straight out of the box despite being tagged as high-end pencils. The leads aren't too soft, and it won't dissolve easily even if directly dipped in water. It can do wet techniques like blending and brushing, and it can also do dry techniques like sketching and other pencil techniques. These are also artist-grade pencils and have good lightfast, suitable for preserving professional work for decades. And lastly, this kit's colors are all beautiful and leave a consistent color either in dry or wet application.
Pros and Cons
Easy to use
Permanent color shade after drying
Fade Resistant
Smooth and even strokes
Thick leads are not suitable for fine details
Final Thoughts
It's always amazing to see an artist quality material used by everyone without overcoming a steep learning curve. Beginners can quickly learn using this kit, and artists can take advantage of its accurate, consistent, and lightfast pigments.
Result
9.3
This kit's best quality is the color variation. You can easily make a full artwork with the 36 vivid colors included and get away without mixing any colors. The kit is also easy to use and learn, making it great for every beginner up to pros. And being suitable for everyone made it the overall best.
2. Caran D'ache Museum Aquarelle Pencil Set – Best for Professional Artists
First Impressions
Getting a good kit if you're a starting professional might be a bit tricky. The best thing you should focus on getting materials that would preserve your artwork for longer. For watercolor pencils, it's the lightfastness you should focus on. The Caran D'ache set we're taking a look at is known for preserving its colors for longer. But it also has disadvantages for some people.
The pack comes in a simple box, and straight from the box, you'll feel that the leads on these are on the softer side. One disadvantage this kit has is the number of colors it comes with, as it only comes with 20 colors when the ideal color count in a watercolor kit is 24. This means that the artist using this kit might have to mix and blend pigments.
It's also worth mentioning that there's also a cheaper version of this kit with 12 colors instead of 24. Now, this set might be great for someone who's trying to challenge themselves to learn color mixing and blending. However, the price you're paying for the 12 color kit is still significantly more than some cheaper options with similar quality and bring more colors.
Performance
This kit will not be friendly for everyone, mainly because of the soft leads that are easy to dissolve with water; one accidental dip will unnecessarily waste pigments. That also means that this will not be that durable if you happen to drop it accidentally. On the other hand, a softer lead will leave more pigment on paper, and it will be easy to do watercolor techniques. The few colors included in this kit also limit creativity, but the colors are great for landscape paintings.
The best thing about this kit is its lightfastness or its resistance to fading. You can mix and blend different colors and even with other media, and once the pigments from this pencil is dry, it won't shift color even after decades. And to make sure, I recommend using archival quality paper with this pencil. Lastly, with its softcore, you won't be able to do much detail with this pencil alone. To make detail possible, you might need to use a fine brush and liquefy the pencil's pigment.
Pros and Cons
Great lightfastness
Leaves more pigment with the softer lead
Very accurate and solid colors
Great kit for landscape paintings
Not good with detail
20 colors might not be enough for some artists
Final Thoughts
Despite having not enough colors, I think this would be enough for professionals to work with and master. After all, a bit of challenge in the materials used might create a unique finish or effect that others can't easily replicate.
Result
8.5
This kit has a few colors to work with, has a delicate lead, and is hard to work with. This kit does bring many opportunities for an artist to expand and improve their skills with a few challenges to overcome. Its lightfastness is better than most pencils, which is enough for us to recommend this for professionals.
3. Derwent Watercolour Pencils – Best for Artists on a Budget
First Impressions
Finding professional quality media for a tight budget is a bit of a challenge, especially when every cheap product might be of low quality due to mass production. And most of the better ones can be ridiculously expensive. But this Derwent Watercolour kit we found sounds like it'll perform well and still be at a reasonable price.
This kit can be had in either a metal tin or a wooden box, and of course, the latter costs significantly more. You can also get more or less colors depending on your needs; this kit can come with 12, 24, 36, 48, or 72 colors. But, in this guide, we highly recommend getting the pack with 36 colors as it brings the best value between the price and the number of pencils you're getting.
Performance
I'll say that the colors included in the 36 pack are enough to color a realistic drawing. It has everything you need for skin tones, landscape, and tons more. And if the color count is not enough for you, you can always blend these to get what you want, and that wouldn't be much of a hassle with this kit as every pencil lead is easily soluble. However, the tips these pencils have are softer than others, which can be an advantage or disadvantage depending on your work.
Durability-wise, there is a bit of noise going around that these leads are not bonded well with the case, which might cause the pencil to rattle and make it more fragile. But that isn't the case with my experience. These pencils perform well in color consistency, and you'll get almost the same shade of color even if dry or wet. Detail is also great with these as you get a comfortable grip, plus the pigments dry up quickly when wet. Lastly, this has lightfast, but you can easily change something with a bit of water and an eraser even if the work has been dried for a long time.
Pros and Cons
It has 36 useful colors
Consistent colors even if wet
Great for details
It tends to crack and break due to soft lead, needs a good sharpener
Final Thoughts
In my opinion, you can try these whether you're a pro or a beginner mainly because the color variant on the 36 pack is great for many genres and themes.
Result
8.3
It includes colors suitable for skin tones, landscapes, abstract, and more. You can experiment and explore a lot with the color variant alone, explore its versatility on wet and dry techniques, and you might be surprised.
4. Faber-Castell Goldfaber Watercolor Pencils – Best For Beginners
First Impressions
For those who love Faber-Castell Pencils but can't quite afford the Albrecht Durer watercolor pencil set, this might be the best one for you. This is part of Faber-Castell's Creative Studio Range, which mainly focuses on providing the best work and study products. I like the design and branding that Faber-Castell put into this; it feels professional and formal.
This pack comes in a metal tin package, and it comes with 48 different colors. And I must say, the colors included are quite lovely, most of them are vibrant and vivid, but there are also some colors intended for skin tones included. Lastly, this still has a hexagonal shape, but it's exceptionally comfortable to hold; it must be the slightly rounded edges that made this comfortable.
Performance
Faber-Castell designed these pencils for professionals and students over the age of 12. And despite that, I'm still impressed with the work they've done for this set. I wouldn't usually recommend a watercolor pack with many colors included for a beginner, but this is an exception, 48 colors for a very reasonable price is something that I love with these.
The lead on these pencils is also softer than with other brands. But unlike the Derwent Pencils, the tips on these pencils are fully bonded with the wood case. Because of that, this will resist breaking and crumbling on sharpening. I also noticed that they are great at both dry and wet techniques. I saw that wet techniques somehow makes the pigments more saturated. And the thing that surprised me is that this is very lightfast. I know this is best for beginners due to its affordable price, but I can recommend that professionals use it as a cheaper alternative. Lastly, this does have some compromise with the low price; some colors are not as consistent as others, some colors that are supposed to be toned down might be too vivid, and vice versa. So color reproduction of realistic illustrations such as portraits and landscapes might be a bit challenging with this one.
Pros and Cons
Includes 48 Colors
Durable
Very Lightfast
Good for details
Some colors are inconsistent and inaccurate
Not the best for blending
Final Thoughts
Despite its excellent lightfastness, tons of colors, and durable tip, I would recommend this as the best to be used by beginners. Yes, professionals can use it anytime, anywhere, as long as they can work with the color inconsistencies and the challenges with mixing and blending colors with these. But still, it's easy to use and doesn't have much hassle if you're a beginner, and for an affordable price, I'm sure you expect a bit of drawback.
Result
8.3
Includes vivid and bright colors, also has toned down colors for skin tones and landscapes. Lays down pigment generously on wet techniques, and it can be used for illustrating fine details. Look out for blending difficulties and inconsistent color reproduction, especially if you're a pro.
5. Castle Art Watercolor Pencil Set – Best Value for Money
First Impressions
Imagine a watercolor pencil set with 72 colors included, and it only costs as much as the Caran D'Ache 12 color set that I mentioned earlier. There must be some catch, right? We'll get to that later, but yes, this Castle Art Watercolor Pencil Set does include 72 colors for a very affordable price.
It comes in a metal tin packaging, and it's quite impressive that each pencil is numbered according to its colors. Then the metal tin package has a chart inside that tells you the color names and the number that identifies them. This chart system might make organizing and finding colors easier.
Performance
Now this kit has a bunch of disadvantages, as you would expect with its price. But first, let's start with the things it's suitable for. As you might find with a 72 color kit, this has a great color range for all genres and art styles. It's useable for portraits, abstracts, scenery, and tons more. And with the wide color range, you might not have to do any color blending or mixing. The durability with this kit is decent, and the leads are a bit on the firmer side.
Now, here are the compromises of this kit. First off, the colors on the pencil shell and the color chart doesn't match the actual color you're going to get on paper. And the pencils are having quite a struggle with laying down bright and vivid colors. With that in mind, I wouldn't recommend this if you're doing important artworks. This also has a low lightfastness rating, and it'll fade after some years. Although I have to give credit to the visual appeal this kit brings, as despite being inaccurate, it does make some artworks look good for a while. Lastly, this might get fine details for you with its durable core and comfortable rounded grip.
Pros and Cons
Includes 72 colors for a very affordable price
Useable for every genre and art style
Durable core
Can't lay down bright colors and multiple layers
The colors on the shell and chart doesn't accurately represent the actual color
Poor lightfastness
Final Thoughts
I wouldn't recommend this for professionals as long as I live. But it is, however, great for practice and beginners. Or it might also be great to use for making random sketches and artworks you can add to your portfolio. I still highly recommend this for everyone, as this brings the best bang for your buck.
Result
8
This kit has tons of colors included for a very affordable price. This, however, has some problems with color inaccuracy, and it has a terrible lightfastness rating. I'll leave this as best for random sketches and practices.
Conclusion
Watercolor pencils are a bit of a grey area to tackle, this media is not the most famous and most used out there, but they are one of the most exciting and versatile media I have come across. They have a bit of a learning curve to overcome, and once you get used to these, they are enjoyable to use and explore different techniques with.