Oil paints hold an esteemed position as one of the most venerable artistic mediums in the history of art, with an enduring presence spanning over fifteen centuries. Whether you are an established artist seeking to explore the rich possibilities of oil painting, a novice yearning to venture into this time-honored medium, or an intermediate painter with a desire to refine your technique, this comprehensive buyer's guide will assist you in selecting the finest oil paints tailored to your experience level.
Oil paints hold an esteemed position as one of the most venerable artistic mediums in the history of art, with an enduring presence spanning over fifteen centuries. Whether you are an established artist seeking to explore the rich possibilities of oil painting, a novice yearning to venture into this time-honored medium, or an intermediate painter with a desire to refine your technique, this comprehensive buyer's guide will assist you in selecting the finest oil paints tailored to your experience level.
Best Choice
Winsor & Newton Artists' Oil Colour Paint
The Trusted Brand of Professional Artists Everywhere
The body, control, and ease with which these colors blend, and their ability to change body consistency with thinners and mediums, might be a good choice if you want more advanced painting media.
Check Price
Selecting your Oil Paint
Opacity is something that is desirable when artists do not want viewers to see through the paint. Transparency works well when you want to create something that looks like a very realistic stained glass window or a puddle of water, but isn't. Both subject matter and artist preference for opacity are important factors in choosing quality paint.
Some artists like to paint in thick layers. Some like to paint in thin layers, building up as they go. The consistency of your paint contributes to your personal and preferential style of painting. Consistency is also important to how you apply the paint to canvas (or linen).
Tubes or sets?
Single tubes of paint are usually "filler" or "trial" tubes. Artists are already using tubes in the same brand/series. They may want to try unusual colors or refill supplies.
Large tubes of color, especially blacks, and whites, are frequently used for tinting and shading. These large tubes are also used to cover very large areas on a canvas.
Introductory sets are typically made for beginners. They are also useful when artists need two or more of the basic colors sold in these sets. Sets usually contain six to ten of the most commonly used colors. You can use the intro colors to mix almost all other colors. By buying the sets, even professional artists can save some extra money on future paint purchases.
If you are exploring painting, you do not want to invest a lot of money in supplies. If you are a professional, you want the best in order to produce the best works of art. Prices and price ranges in paint fit with where you are financially and where you are as an artist.
The brands and their reviews listed above are just a sampling of the vast and variable oil paint options for you to explore. We have tried to include the best ones here so that you can choose a product based on your personal skill level and preferences, as well as any budgetary restrictions you may be facing. Art, as a hobby, is not cheap. You can purchase most of what you need almost anywhere that paints and brushes are sold.
Where to Buy and How to Get More for Less
Online stores and online-only merchants buy paint products in bulk so that they can offer the kinds of discounts they do. Buy direct from the manufacturers when you can. Also, some shops has a wide selection of artist's paints not sold elsewhere.
The best value for any beginning artist is the introductory sets. Professional artists can benefit from sets when they need just a little more of each of certain colors, or they need to fill in their supplies just to get by until they can afford larger tubes.
You can buy your supplies and paints directly from some manufacturers. Williamsburg and Van Gogh paints will do direct sales to consumers. It is helpful when you are trying to get a specific color in a specific size tube or package, and it is very difficult to find otherwise.
Extra Tips for Use of Different Oil Paint Brands, Different Levels of Paint, and Lightfasted Ratings
It generally is not a good idea to mix different brands of oil paint, and for good reason. Linseed oil paints will not mix well with walnut oil paints. The mostly artificial means of producing previously toxic natural pigments will not mix with small batch paints that may still use some of those potentially toxic natural elements to get more vibrant colors.
You can mix beginner level with intermediate level, and intermediate level with professional level paints that are made by the same company. It is fairly safe to say that there will not be any pigment or consistency issues if you do. The only thing you really have to watch out for is mixing certain lightfast paints.
If an intermediate paint from a particular company has a lightfast rating that does not match the lightfast rating of the professional level or paints, you could be dooming your work to patches of fading where the lesser-rated paint sits on the canvas. The result, thirty or more years from now, is a blotchy-looking painting that is nothing like what you intended. Check the ratings on the tubes or packaging, or look for the ratings on the included guides in the sets.
Best Oil Paints Brands in 2023: Comparision Table
The following types of artist oil paints used by artists and beginning painters are organized by paint brand, opacity, body consistency, color availability, whether or not there are starter sets available to help you choose among the best oil paints in the world.
1. Winsor and Newton Artists' Oil Color Paint — Best Oil Paint Set Overall
Winsor & Newton is a brand that has been around for centuries, starting off as a manufacturer of glass and then moving on to other types of materials like pigment and high-quality paint. It's no wonder their products are held in such high regard by artists all over the world; this company knows what it takes to make quality artist oil paints!
Unpacking and First Impressions
Subject matter experts have deemed it so, and you can see why with your own eyes after just a few minutes of opening this paint tube package. It has brilliant colors that work well together to give you all sorts of hues. The paints are also available in sets containing different colors, so you can find the perfect one for your needs. 
The tubes come in various sizes but fit standard-sized palette cups and mixing trays.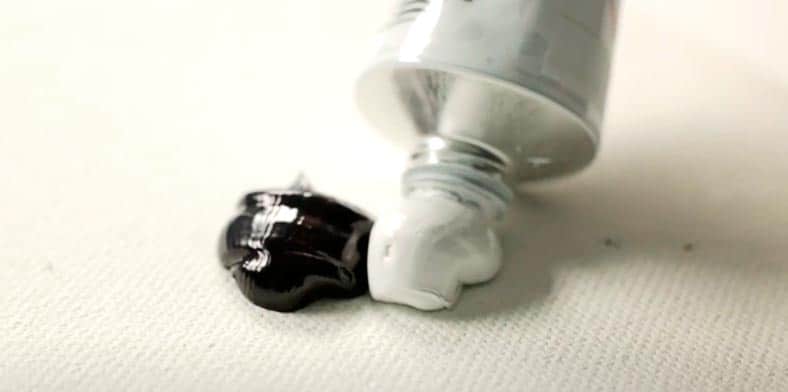 Performance
The body consistency of the paints is medium to thick, which makes them easy to work with and ensures that every brushstroke will be smooth or textured perfectly. Furthermore, even if given time in storage before being opened up by an artist (which could lead to pigment separation issues), there are no problems like clogging when actually using these paints on canvas or paper surfaces.
Opacity: most colors are quite opaque, and you would need thinners to make them transparent. However, the tubes will clearly denote which select few colors are transparent.
Body Consistency: mild to moderate body, these professional level paints are not at impasto level, but they are not fluid liquid either.
Color Availability: dozens of colors available for 37ml tubes. A selection of colors is available in larger, 200ml tubes.
Starter Sets Available: yes.
Winsor and Newton is synonymous with best quality oil paints. These paints are the go-to paint for most artists. The body, control, and ease with which these colors blend, and their ability to change body consistency with thinners and mediums, might be a good choice if you want more advanced painting media. Furthermore, they also provide artist oil paint sets/series for beginner/intermediate painters.
Most professional painters collect their palette of colors with separate tubes.
Learn here
how many colors you actually need.
We recommend starting with the set below. This set of primary colors is ideal for beginners (e.g., for color theory classes):
This set is ideal for designers and more experienced artists:
Winsor & Newton Artists' Oil Colour Paint Introductory Set
Contains 10X21ml tubes of Artists' Oil Colour, ideal introduction to the range
Contains 10 popular colors: Winsor Yellow, Crimson Alizarine, Green Ultramarine Hue, Winsor Blue (Red Hue), Winsor Green, Yellow Ochre, Indian Red, Burnt Umber, Ivory Black, Titanium White
Check Price
Transparent Colors, Cost, and a Larger Color Selection for Bigger Tubes
Multiple transparent colors are also available so that you do not have to dilute a color beyond recognition to get the transparent effect. The cost for these paints varies. Winsor and Newton charge more for the difficult to produce colors (e.g., oxide purple, cerulean blue) than it does for common colors (e.g., pthalo blue, crimson red, etc.). Winsor and Newton also carries lots of colors in their larger, 500ml tubes if you paint thickly, or paint very large works of art.
Tinting Strength
There's often speculation over the quality of Winsor & Newton Winton Oil Color vs Artists Oil Color. They are both permanent and lightfast and both use the same quality pigment. 
If you mix the white color with the Winton Oil Color, you can see there's quite a strong shift in the tint. Then if you add the same amount of white to the Artists' Oil Color Paint, you can see that the shift isn't as great, which shows that you have far more range in your tinting possibilities and fewer limitations.
You can really expand your palate using different whites, but you'll get a greater tinting range with the Artists' Oil Color Paint.
Recommended Mainly for Intermediate and Professional Artists
While Winsor and Newton does have a student's set of oils, most of the paint they make and supply is meant for intermediate and advanced/professional artists working in oils. Professional artists also have a greater need and use for the larger, "economy" tubes of paint. The blacks and whites in large tubes that intermediate and beginner artists use more than other colors are the exceptions.
Pros and Cons
Familiarity helps. The pros of using this brand is that there is definitely someone out there who can answer your questions because the brand is so widely used and well-known. The numerous colors are inspiring, and the extra-large bonus tubes mean fewer trips to the store. The ready-made transparent colors of paint mean less thinners and less smell.
Price and experience. The cons include the price and the level of experience that is suggested by the manufacturer. Not all artists may be able to afford every color, and some of the more rare colors are the most expensive of all. Unless you have a wealthy collector or benefactor, and/or you are doing well as an artist, Windsor and Newton may be that rare treat tube you buy yourself for a special occasion.
2. Williamsburg Handmade Oils — Best Oil Paints for Artists
Unpacking and First Impressions
The Williamsburg Handmade Oils set comes in a nice box. The colors are artist grade and the paint is handmade which gives it a nicer texture than some other oil paints. The paint tubes are color-coded which makes it easier to find the tube of paint you need. This can be helpful when your palette starts to get messy. 
The oils come in 8-11ml tubes, which is on the smaller side but great for travel or starting out. 
The paint has a good body and covers well. The colors are intense right out of the tube which is great if you don't want to spend time mixing colors.
Performance
The colors are nice, although you can notice that after they have aged for a few months, some of them seem to get lighter. This isn't too big of an issue since it doesn't affect their brightness or vibrancy. 
The paints themselves feel like they will last forever, not to mention that there is a lot of pigment packed into this little tube! These oil paints also do well when thinned with turpenoid or other brush-on mediums.
Opacity: very opaque.
Body Consistency: very dense. Because each batch of paint is crafted by hand in the factory and in small batches, you can expect the density to be thick, almost impasto-like.
Color Availability: over 150 colors, with many unique colors you may only get once accidentally when mixing your own.
Starter Sets Available: yes.
Handmade Oil Paints in Small Batches
If you have ever wanted to make your own paints, but you were concerned about getting the colors and consistency right, take a page from the Williamsburg oil paint company. This brand of oil paints is made in small batches on demand, a very unique feature for oil paints. They are very dense and opaque because of the way that they are made.
Lots of Color Options, Paint with Heft, and a Bigger Price Tag
However, if you want thick paint with rich, opaque color, this might be the ideal paint for you. The cost is moderate to high. There are over two hundred colors available, almost as many as Winsor and Newton.
Recommended for Painters That Use Alternative Tools for Painting
If you paint with palette knives, spoons, forks, or anything that is not a brush, the thickness, and density of this paint are perfect. It will not slip, slide, or drip off of your alternative painting tools. If creamy peanut butter were paint, it would be on par with Williamsburg paints.
Williamsburg Oil Traditional Colors Set
Contains eight 11ml colors and one 37ml tube of Titanium White
Handmade Oil Colors known for their excellent lightfastness
Check Price
Pros and Cons
Unique density/color. The pros of working with these paints is their unique density and their pigmentation. When crafting batches of paint, the pigment is mixed with the binder in the same recipe as always. However, variations in the pigment itself may produce slight variations in each new tube of the same color.
Small batch pigment problems. Slight variations in pigment color from one tube to the next may also be a con. Artists who consistently want their yellow ochre to be the same yellow ochre may not like the slight shade or tint differences.
There is also the problem with making small batches of paint. Sometimes certain colors are sold out quickly and you have to wait for a new batch to be made and packaged before you can purchase more.
3. M. Graham Walnut Oil Paints — The Only Oil Paint Made from Walnut Oil
M. Graham is a small, family-owned business that has been making oil paints since 1965. All of their paints are made from natural ingredients and no solvents or harsh chemicals are used in the production process.
Their Walnut Oil paint line is the only one that uses walnut oil as a base. The other oils used in their paints (linseed, poppy, safflower) have been around for centuries and have a long history of being used by artists.
Unpacking and First Impressions
What makes these paints unique is that they are the only oil paints that are made with walnut oil as a binder. The manufacturer boasts that this gives their paint "a natural affinity for wood" which allows it to be used on surfaces like panel or canvas without an underpainting of gesso first (though you may still choose to do so). 
Performance
The paint is labeled as semi-opaque, and we found it to be so in our test. It covers the canvas well without being too thick. The colors are rich and vibrant.
The paint has a really creamy texture and goes on smoothly, without any streaks or patches. 
The dried paint has an excellent matte texture, which isn't always true for oil-based paints (and definitely not true of most pre-mixed oils). The colors are very vivid even after drying, there is no cracking or color distortion whatsoever!
Opacity: moderately opaque, no transparent color options.
Body Consistency: moderate body.
Color Availability: about fifty to seventy-five colors for 1.25oz/37ml tubes, and twenty or so color options for the 5oz./150ml tubes.
Starter Sets Available: yes, plus this starter set comes with two small bottles of walnut oil mediums.
The Walnut Oil Difference
Almost all oil paints are made with linseed oil. These paints, however, are made from walnut oil. They are able to resist fading and yellowing which is typical with some linseed-based oil paints.
Safety Considerations, Color Limitations, and Affordability
They also do not require any thinners or solvents. Ergo, you have a completely natural-based oil paint that is safe for most pregnant artists to use because the thinners and solvents are completely unnecessary. Color options are a little more limited, but the affordability and safety factors make up for the lack of color options.
Recommended for Pregnant Painters and Painters with Allergies
Because no solvents are needed to work with walnut oil paints, they are very safe for the pregnant/expecting painter. They are all-natural and non-toxic too, making them the safest oil paint on the market. If you happen to have an allergy to linseed oil, walnut-based oils are an excellent substitute. (The only exception would be painters who are also allergic to walnuts. If you are allergic to both walnuts and linseed oil, you may have to work with vinyl gloves on your hands regardless of which oil base you choose.)
Pros and Cons
Long, lightfast life. Walnut-based oils have a better-lightfasted rating over some linseed oils. It means that your paintings will not yellow as much or as quickly (if at all) over time. Their smell is unique, and you may even like or prefer it to linseed oil-based oil paints.
Big learning curve. In terms of cons, these paints require a learning curve. Mixing colors with them is a little different. It is not advisable to mix them with any other traditional oils. You are also limited to a set number of colors with little to no option of special mediums and finishes.
4. Gamblin Oil Paints — Best Oil Paints for Beginners
Unpacking and First Impressions
Gamblin oil paint is known for being one of the best oil paints for beginners that you can buy because it has a wonderful color range. They come in a box, which is pretty standard for the industry. The tubes are a good size, and the colors are bright and vibrant. The paint goes on smoothly and dries quickly.
Performance
The pigments are really bright, vibrant colors. They're very easy to work with and apply evenly because they sink into the canvas well. They are beautiful right out of the tube – very smooth consistency and fantastic coverage on canvas with just two coats. The paint also holds up pretty well even if you give it time to dry. 
Gamblin oils have a creamy consistency that makes them easy to apply with just about any type of brush. They also work really well on different textures such as canvas, wood, and fabric without it being too thick or clumpy.
Opacity: lots of opacity options, depending on which Gamblin paint series you choose.
Body Consistency: varies from series to series, e.g., Gamblin introductory to Gamblin 1980, etc.
Color Availability: over two hundred vibrant and various color choices and finishes.
Starter sets available: yes, for every series of Gamblin paint, there is an introductory set.
Gamblin's Options for All Painting Levels
Gamblin produces the widest and most versatile range of oil paints for all levels of artistic experience. It does not matter if you are brand new to this medium, or you have been working as a professional artist for decades. They have a set of paints that matches your level (although you could attempt to paint with any of their artist oil paint sets to see what each level is like).
Colors, Finishes, Mediums, and Cost
Gamblin is just one of the few paint manufacturers whose color range exceeds Winsor and Newton's. Many finishes are incorporated into several of their colors, too, like iridescent and metallic media in more than just gold, copper, and silver. If you want a lot of color, finish, and medium choices, you may find what you are looking for in the numerous tubes and starter sets that Gamblin sells. Prices are in step with the artist's level of paint and experience, from low to high.
Recommended for Artists of All Skill Levels and Experiences
Gamblin rises to the occasion to make quality oil paint for all ages, all skill levels, and all levels of experience. You can easily find the right set of tubes to fit you. From students new to oil to professionals, Gamblin is rated "E" for everyone.
Pros and Cons
Easy to begin. It is easy to get started in the world of oil paint with Gamblin. It is affordable, and there are lots of tools and accessories, plus various mediums to change the texture of the paints. Experimentation, exploration, education, and learning are all very possible. Even more, it is also one of the best water-soluble oil paints.
Overwhelming choices. As far as cons with Gamblin are concerned, you may be overwhelmed by choices. Choices in sets, choices in tubes, choices in price, choices in colors, etc., all lead an inexperienced painter into dizzying decision-making. Narrowing things down might be tricky.
5. Van Gogh Oil Paints — Dutch-Made with Painting Traditions in Mind
Unpacking and First Impressions
The Van Gogh oil paints, hailing from the Netherlands, pay homage to traditional painting techniques while maintaining a commitment to quality. Crafted with premium pigments and binders, these paints ensure the longevity of one's artistic creations.
The packaging is thoughtfully designed and informative, with tubes that are easily accessible. The color palette is extensive, embracing both conventional and innovative shades.
Straight from the tube, the colors are striking and visually appealing. Their fluid texture makes them a pleasure to work with, allowing for a seamless and enjoyable artistic experience.
Performance
As an artist, I experimented with these paints on an array of surfaces, such as canvas, wooden panels, and paper. Remarkably, the paints performed splendidly on each surface. The smooth consistency allowed for effortless coverage, and the drying process was relatively swift—taking approximately 24 hours—without leaving the paint feeling overly dry or rigid.
Opacity: no transparent colors available.
Body Consistency: consistency of soft butter.
Color Availability: only 66 colors available, but they offer easel cans as well as 37ml tubes.
Starter set available: yes (generous intro set to start).
About the Company and the Paint
Van Gogh paints are made by a Dutch art supply company. The company wanted to focus on the traditional colors and means by which paints were originally made over a hundred and fifty years ago. The paint has a body consistency that many describe as "warm butter."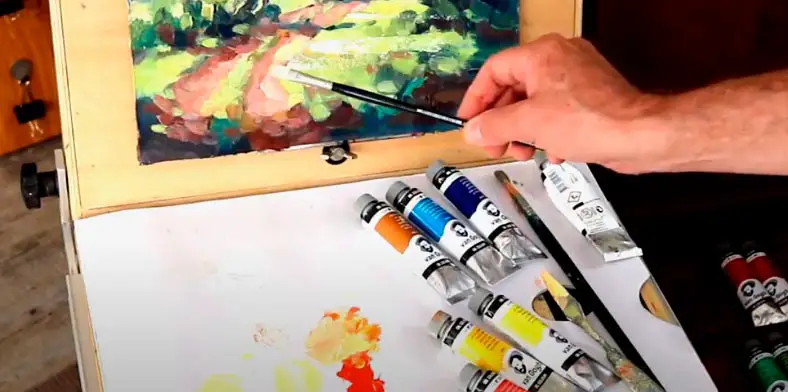 Colors, Packaging, and Price
The tubes are affordably priced, but if you really want to get into art and painting, try their easel pots/cans. The pots (or cans) fit into professional painter's easel trays much like the pot accessory does. There are only sixty-six colors available, but if you want to experience painting like Van Gogh, consider trying these with the available intro set.
This paint also available as a set: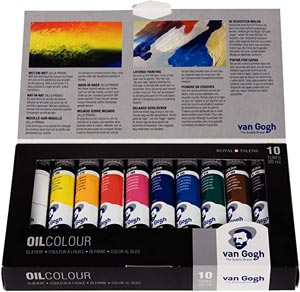 Winsor & Newton Artists' Oil Colour Paint Introductory Set
Contains 10X20ml tubes
Colours are: Titanium White (105), Azo Yellow Light (268), Azo Yellow Deep (270), Azo Red Medium (393), Quinacridone Rose (366), Ultramarine (504), Cerulean Blue Phthalo (535), Permanent Green Deep (619), Burnt Umber (409), and Ivory Black (701)
Check Price
Recommended for the "Authentic" Painter
There are artists that seek "authentic" painting experiences. These artists want to use rabbit skin glue and Dutch-made paints over and on pure linen cloth. If that sounds like you, then Van Gogh paintings fit the category and the canvas perfectly.
Pros and Cons
Affordable and multi-functional. Despite their expensive-sounding name, these oils are quite affordable for most artists. Their body consistency and texture lends well to brush, paint knife, and even alternative painting tools. The easel pots/cans are an especially nice pro/selling point.
Hard to find. Dutch-made paints take a while to ship to the states. They sell out fast, and it takes time to get more in stock. You may have to track them down through multiple channels to get enough of whatever colors you most need and want.
Conclusion
If you are ready to begin painting, add to your supplies, or buy more paint to continue your career as an artist, this guide promises to be of help to you. Until you know exactly what specific features you want from your oil paint, it helps to experiment a little. It also helps to set a budget for the paint, since it is very easy to get carried away with the brands that have dozens to hundreds of colors available.
So what are the best oil paints? The best brand for those new to oil painting is Gamblin. It offers a lot of intro sets with additional painting tools, brushes and accessories so you do not have to buy anything else. If you decide that oil painting is not for you, then you do not have to buy anything other than your Gamblin starter set.
The best brand for professional artists is Winsor and Newton. The brand is widely available. It has numerous colors and mediums. Dozens of brushes of all types and sizes are available from this brand, too. Several extra-large tubes in colors other than blacks and whites are offered for the professional artist that paints big paintings.
People Also Ask
What are oil paints?
A slow-drying paint whose pigment particles are suspended in oil, oil paint has been used since the 12th century. Linseed oil is used to suspend the pigments, but often a solvent, such as turpentine, is added to adjust the paint's thickness. The varnish is also sometimes used to make the paint glossier.
What is the difference between acrylic paint and oil?
The biggest difference between the two paints is simply the time it takes each to dry. Oil painting takes hours, even days, to dry completely, while acrylic can dry in minutes. The smells and color saturations are also different.
What is the best surface for oil paints?
There are six main surfaces that work with oil paints. The first and best of these is the canvas. The natural fibers of the canvas are perfectly suited to capturing the splendor of oil paints. Other good surfaces include wood (second best), paper, glass or MDF (medium density fiberboard), gesso and aluminum. Each of these has its own specific properties that make a painting with oil a unique experience. Do your research before choosing the best surface for your needs.
What are oil paints made of?
Oil paint has the same basic formula as other paints - pigment, binding agent and solvent. The pigments, or colors, usually come in powdered form. The solvent can be a wide variety of things; however, the two most common solvents for oil paint are turpentine and mineral-based spirits. The binding agent is almost exclusively linseed oil.
Are oil paints toxic?
As a general rule, oil paints aren't toxic, though they should never be consumed. There are a few colors that can be toxic, but only if they are ingested or inhaled directly. These include cobalt, cadmium and lead-white. However, the solvents and agents most often used to clean brushes and canvases can be quite toxic. These include mineral spirits and turpentine. Use these as little as possible, and keep the lids on them closed at all times when not in use.
What is the best brand of oil paints for artists?
This question will have a different answer depending on which artist you ask; everyone has his or her own favorite brand of art supplies. However, in our opinion, the best overall oil paint brand is Winsor and Newton Artists' Oil Color Paint. They're a little expensive, but they're excellent paints. They have a deliciously creamy texture that mixes incredibly well, and the color saturation is bold and gorgeous.
Can oil paint be used on paper?
Despite the common misconception, yes, oil paint can be used on paper. It is best if you use actual oil paper designed specifically for oil painting, but it isn't required. You can also use watercolor paper or even sketch-pad paper, but be prepared for some bleed-through. It's best to mount your paper on a solid surface first, even if that surface is just cardboard.
Why are oil paints expensive?
There are two main reasons oil paint is pricey. The first is because the manufacturing process used to create oil paints is complex and difficult. The harder something is to make, the more it will cost the consumer to buy. Oil paint is no exception. The second reason oil paint is so expensive is due to the actual pigments. Some of the colors - cobalt blue, for example - require pigments not easily found. Cobalt isn't something you can go into the front yard and find. It has to be extracted, shipped and sold, and it isn't cheap. You can, of course, buy cheaper oil paints, but those aren't always made from the true pigments found from the earth. Sometimes companies substitute synthetic pigments to save money, which takes the quality of the paint down and actually prevents it from being true oil paint.