Plein air painting or outdoor painting is a method that dates back to the 19th century French Impressionist art movement. It is how these artists captured the beauty of life by painting sunsets, landscapes, and bodies of water.
Best Choice
MEEDEN Ultimate Pochade Box
The Best Plein Air Easel
The Meeden Pochade Box is relatively affordable and is a great option for traveling artists who want to explore Plein air paintings. It provides great value for the features that are included. It is one of the best pochade boxes you will find on the market.
Check Price
Since artists have to travel for Plein air paintings, they need an easel that will be easy to store and transport. This is where the handy pochade boxes and French-style Plein air easels come in. It is important for you to choose an easel that will suit your needs and make your life easier.
Things to Consider Before Buying Plein Air Easel
Buying the most appropriate easel for you is important in order for you to produce high-quality work and have the best Plein air painting experience possible. This guide below should answer any other questions you may have, and you will hopefully gain some additional knowledge on Plein air painting.
Plein Air
Before you decide to buy a Plein Air Easel, you should first know some basic definitions. Plein Air in the context of painting means "outdoors" in French. This means painting in places outside of the studio such as beaches, forests, and meadows. It's all about capturing the beauty of the outdoors at the exact moment you are seeing it. You are not just painting from memory or imagination, but instead from observation.
Pochade Box
Within the Plein Air easel category, there are a few subcategories including the pochade box and the French style easel. Pochade is a french word directly translated as "pocket" in English. It is used in the term "pochade box" to signify its portability. A pochade is also a painting sketch of an outdoor scene. The pochade box was created for artists who create pochades and mostly paint outdoors. True to its name, it is a portable box with storage space for art materials as well as an easel to support the painting. Most of the classic pochade boxes are made out of wood, but there are newer ones made from aluminum and metal.
Painting Easels
Easels are angled upright fixtures that hold a painting or canvas while an artist works on it. Wood is used for the vast majority of easels. However, it is not uncommon to see easels made out of metal, plastic, or even steel. Easels come in either a tripod form or an H-Frame design, the former being the more popular one.
French Style Easels
French-style easels, like pochade boxes, are also made easy to carry for on-the-go painters. However, they are significantly larger and heavier compared to pochade boxes. These easels normally include the easel, a sketch box, and a canvas carrier all conveniently packaged. They have slots for storage as well as collapsible legs for easier transportation.
Weight of Easels
Since Plein air easels are made for outdoor painting, most of them are already portable to begin with. However, pochade boxes tend to be more lightweight than French-style easels because they are smaller and more compact. If you do not have trouble lugging heavy objects around and need additional storage space, a French-style easel might be your best bet.
Size of Easels
For a comfortable work session, you need to work with an easel that matches your height. Pochade boxes come in various sizes and the smallest ones can be hand-held. The larger pochade boxes require a table for support or a tripod. As for French-style easels, you can find box-types that are similar to pochade boxes and easels that have their own collapsible legs. When picking out an easel, you should take note of its maximum height so you can choose one that suits your needs. If you are on the tall side, be sure to avoid a half-sized easel. On the other hand, you could probably work with a pochade box regardless of its size since they need to be mounted on a tripod or table anyway.
Adjustments
Plein Air Easels can not only be adjusted according to height but according to angle as well. All easels and pochade boxes have a limited adjustment range when it comes to the height. They are much more flexible when it comes to angle adjustments. Some can be adjusted to any angle that you wish and can even be made completely flat.
Storage
Since these easels are made for the traveling artist, storage space is a needed feature. Most easels on the market have a drawer or compartment with enough space for essential tools. This may include paint tubes, palettes, paintbrushes, and palette knives among other things. Some easels have larger storage compartments, but you might need to bring a separate bag for your materials depending on what you are bringing.
Best Plein Air Easels on the Market
The following products are some of the best easels you will find online and in-store. We made this guide easy to navigate and understand so that you may make a wise decision as a consumer. You will surely find what you are looking for among the five easels listed below.
1. MEEDEN Ultimate Pochade Box — Best Pochade Box
First Impressions
The Meeden Ultimate Pochade Box comes in a lovely chestnut brown and also has a handle for carrying much like a briefcase. It seems to be made out of a wood-like material but not pure wood. The pochade box has three compartments for you to store your paint tubes, brushes, palette knives, and any other painting essentials you own. You may also opt to get a shoulder strap along with the box or even a separate storage bag.
Design and functionality
This pochade box has a tray to hold your brushes while you're painting which is quite a nice feature. There are magnets inside the box to prevent the tray from sliding around when you're carrying or transporting it.
The Meeden pochade box works well for outdoor painting because it is pretty easy to adjust the angle of the box's lid where the easel rests against. You could even make it completely flat if that would be more convenient for you. Keeping the easel flat is the most ideal position for when you are working with watercolors.
One of the drawbacks of this is the slot for the canvas. The holder itself is adjustable, and it's hard to prevent the canvas from moving. Having to constantly readjust the canvas holder could be a bit of a burden.
Pros and Cons
Contains a brush holding tray for your wet brushes
Has an adjustable easel
Storage compartment with removable dividers
Universal tripod mount plate
Prone to scratches
Slightly bulky
Final Thoughts
The Meeden pochade box has many useful features, but the design seems to be lacking in some areas. For one, the box gets easily scratched perhaps because the materials it is constructed out of are too weak. The adjustable canvas holder may be bothersome and interrupt you in the middle of a project due to the constant shifting of the canvas. It is also a bit bulky, but it makes up for this with the amount of available storage space and the convenient handle. Also, you may find the box's universal tripod mount plate valuable if you already own a tripod. Overall, it provides great value for the features that are included, but you should take note of some of the downsides that were mentioned. Still, it is one of the best pochade boxes you will find on the market.
Result
9
The Meeden Pochade Box is relatively affordable and is a great option for traveling artists who want to explore Plein air paintings. One thing to note, however, is that the box itself is manufactured in China. Some buyers have expressed their disappointment over this. Even so, this pochade box is very well-made.
2. Sienna Plein Air Pochade Box  — Best Plein Air Easel for Oil Painting
First Impressions
This particular pochade box is a medium-sized box that is both thin and compact. Sienna also offers a large pochade box, but the medium box is the smallest size offered. It comes in a rich cherry stain brown color and is made out of maple, poplar, and Baltic birch. The surface of the box has a glossy lacquer finish. You will see that this also has a brush tray but does not have much to show in the storage department.
Design and functionality
Inside the pochade box lies a removable tempered glass palette that may be beneficial for oil painting. As a secondary use, you could also use the glass palette for mixing paint colors. It is pretty easy to clean and can be snapped out or back in effortlessly.
Both the lid angle and the canvas holders on the box are adjustable with knobs that are easy to control. The canvas holder, which can hold both panels and stretched canvas, can be stretched up to 15 inches high.
As mentioned earlier, the pochade box is thin when you compare it to other boxes in the market. One reason why it is thin is that the Sienna pochade box does not have a large storage space. You will probably have to bring a separate bag for your brushes, paints tubes, and other painting materials. The upside to this is that you might be able to insert the box into a larger bag during transport. This pochade box does not come with a handle or strap, so it may be challenging to carry it on its own.
Pros and Cons
Includes a removable tempered glass palette for color mixing
Thin and compact for convenient transport
Made out of sturdy materials
Has a magnetic brush tray
Does not have a large storage space
Final Thoughts
If you value portability the most when it comes to picking out a pochade box, you might like this one the best. The Sienna pochade box weighs around 2 kilograms or 4 pounds, so it is not too heavy to bring with you when you are traveling. The fact that it is not bulky at all also works in its favor.
Though this particular box does not have room inside for anything other than brushes, this may not be a problem if you plan to carry another bag anyway. The glass palette that comes with the box is very versatile. You can use it for color mixing as well as a cover for your wet painting if you decide to store it inside the box.
Result
8.8
The Sienna pochade box seems to be the best when it comes to portability. Aside from this, the glass palette is a nice addition especially for artists who dabble in oil painting.
3. Creative Mark Cezanne French Artist Easel — Best French Easel
First Impressions
The Creative Mark Cezanne easel closely resembles the popular Mabef Backpackers Easel. They are both very similar in color and structure. This half-sized French-style easel is made out of oil-stained elmwood with a beechwood finish. You may also notice the beautiful brass plated hardware on the screws and knobs. It truly looks like this easel was crafted with great care and precision. As far as Plein air easels go, this may be one of the more expensive ones you will find out there.
Design and functionality
One of the most important things to consider for Plein air easels is the assembly. The Cezanne French-style easel can be assembled quickly, and it comes with detailed instructions as well. Though, you may not even need it.
The easel has an approximate weight of 10 pounds. This might seem heavy, but if you compare it with other French box easels, it is quite lightweight. It is still compact considering how much it weighs. The carrying handle and shoulder strap are also terrific features that make for easier portability.
Another bonus of this easel is the small sketch box drawer. You could probably fit most of your materials inside as there is plenty of room for brushes, paints, and such. The drawer itself has dividers too so that you can keep your things neat and organized.
Pros and Cons
Lightweight and compact
With ample storage space for art tools
Comes with a carrying handle and shoulder strap
Has a finished wood palette
Screws and wingnuts occasionally become loose
Final Thoughts
Creative Mark's Cezanne French easel is definitely aesthetically pleasing and has a traditional look that many painters would enjoy. It also is quite lightweight which is something you would want for a Plein air easel. This is made possible by the inclusion of a shoulder strap and handle, which some easels might not have. One of the drawbacks of the Cezanne French-style easel is that all of the parts are easily collapsible, and the same can be said for the screws. Your painting project might be disturbed when the legs of the easel become wobbly all of sudden due to loose screws and wingnuts. However, if you look at all of its qualities, the positives outweigh the negatives. For that reason, this is probably one of, if not the best French-style easels you can buy.
Result
8.3
This easel provides great value for what you are paying for. The only problem seems to be the loose screws. Creative Mark does not offer replacements for screws and wingnuts with your purchase, and you can't buy them separately from the brand either. What you can do to remedy this is to tighten the screws yourself, but you might have to make it a regular routine.
4. Falling in Art Black French Easel — Best Plein Air Watercolor Easel
First Impressions
Falling in Art's French easel box has a modern and contemporary look. It is all-black and the box itself is made out of wood. What makes it different from its counterpart French box easels is that the legs are made out of aluminum instead. This easel also has a leather handle and an adjustable strap that can be carried on the shoulders.
Design and functionality
The assembly of this easel is not complicated at all, especially with its adjustable aluminum tripod legs. They can be adjusted according to your height, so if you are on the shorter side, this might be very convenient. You could also adjust the legs to make the easel suitable for painting in a sitting position if you start to get tired. They are very sturdy and are able to withstand different conditions, so you can still go out painting when it is windy out. This easel would be suitable for watercolor painting since you need to have a stable surface for that.
The canvas holder has a clamp that can hold paper and panels with a height from 16 inches up to 34 inches. It's worth noting, however, that you would not be able to hold a smaller canvas with this. The clamp cannot hold canvases shorter than 16 inches, so you may have trouble with that if you are in a windy environment.
Pros and Cons
Has durable aluminum collapsible legs
Comes in a unique and elegant color
Easy to carry
Convenient assembly
The clamp cannot hold smaller sized canvases
Legs sometimes don't stay in place in storage
Final Thoughts
If you have stability as your number one requirement, this might be the right easel for you. It is easily adjustable, and the drawer allows for organized storage. The four different compartments inside the drawer would probably be useful if you're carrying a lot of materials with you. This also makes it easier to navigate your things while you're working, and you won't have to tear your drawer apart just to find one thing.
Result
7.8
As a whole, this is quite durable and it is an exquisite choice for a portable French-style easel. The only problem seems to be that the legs might not stay folded in storage. This is an easy fix, however, and all you need to do is tie the legs with a string or ribbon before packing up your things.
5. SoHo Urban Lightweight French Style Easel — Best Lightweight Plein Air Easel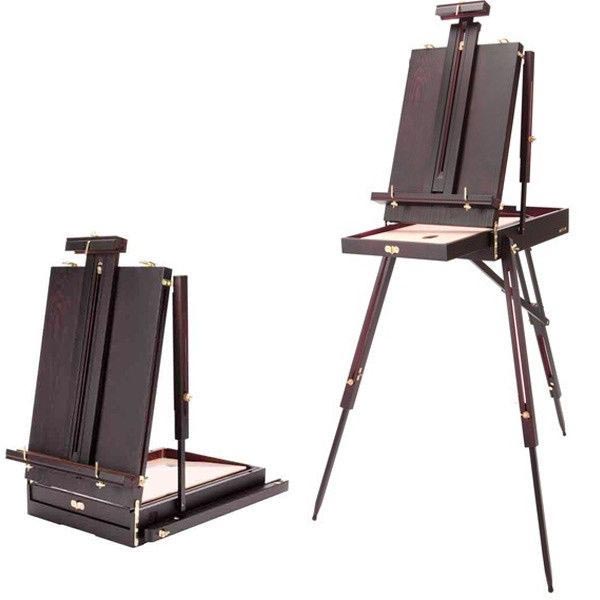 First Impressions
The SoHo Urban Artist easel is a nice mahogany brown color. At first glance, it does not look too heavy and looks like it could hold a reasonable amount of storage. Compared to other French-style easels, this is one of the more affordable ones on the market.
Design and functionality
This easel may work well for those who cannot handle carrying too much weight as this is one of the most lightweight easels. It only weighs around nine pounds and is compact enough that it can be used as a desktop easel.
If you decide to get this easel, you may be pleased to find it comes with a wooden palette suitable for your color mixing needs. The palette has the same size as the drawer, so it fits perfectly inside.
The angle adjustment knob can be changed to any angle, and you can make your canvas lie completely flat if you want to. The largest canvas size it can hold is 32 inches. You can hold wet paintings in the canvas holder as well.
Pros and Cons
On the affordable end
Comes with a wooden palette to mix paint colors
Full range of angle adjustments
Has a built-in wet canvas holder
Can be used as a desktop/tabletop easel
Wobbly legs
May be difficult to assemble
Final Thoughts
The SoHo Urban Artist easel might be the most ideal option for people who prioritize having a lightweight easel over anything else. This easel is much lighter compared to its counterparts. One problem you may encounter has to do with the easel's tripod legs. They can be a bit wobbly and are not as stable as other easels.
Result
7.8
For its price, this easel is pretty high on the list in terms of quality. Its portability is the main selling point, and SoHo Urban Artist acknowledges this since they mention it is 30% lighter than other French-style easels in their adverts. One thing you should keep in mind is that this seems to be a bit harder to assemble, and there is no instruction manual included.