Oil pastels have been one of the most famous art media for artists, and it is getting more popular every day, and it's not a mystery why. Oil pastels typically have highly saturated pigmentations, and it also holds their colors over time since it has a high saturation of binders containing the pigments. And oil pastels are incredibly versatile, in a way that they can be applied and used on most surfaces, whether smooth or textured.
Best Choice
Arches Oil Painting Pad
The Best Paper for Oil Pastel
This paper surprised us with its extremely versatile surface that can take tons of beating and tons of different oil pastel techniques, whether wet or dry. Its surface provides a perfect texture of being smooth, and yet it can still handle tons of pigment, it's a perfect blank surface that oil pastel artists love.
Check Price
Selecting your Paper for Oil Pastels
There are some uncommon terminologies, and this guide will help you understand all those numbers and grades that some paper has.
GSM
GSM is one of the first things you must check when getting a paper for specific applications. GSM means Grams per Square Meter, and this describes how heavy and thick the paper is. For standard oil pastel application and techniques, we recommend a minimum of 255gsm. For wet techniques on oil pastel, a minimum of 300gsm weight is recommended.
Sheet Number and Size
You must always check and consider the sheet number and size to ensure that a pack of paper is well worth it for its price. The most reasonable prices are mostly packs that have at least 12 sheets and have a size of at least 9in x 12in. If you're a beginner, watch out for these.
Quality
You should always consider the archival quality that a paper has. Archival quality defines if the paper and its contents will last for a long time. The main factors that affect this are the ph level of the paper. A neutral ph level is ideal for archival quality. And you should stay away from acidic papers, but it's okay if you're only using those for practice.
Package
Some packages will come cheaper, and some are more expensive. If you're buying paper to test out or for practice, it's fair to get a pad or a card stock package. If you're looking for paper intended for random sketches, then you better get a glue-bound or spiral-bound pack of paper. And if you're buying huge paper or in bulk, you should consider finding rolls that are way more economical.
Texture
For oil pastels, the toothy and gritty paper will do better than what you would experience with a glossy and smooth paper. There are subtle textures like the unique cellulose fibers on Clairefontaine papers, and on the other end, there are extreme grit and textures that you'll only find on sanded papers. To decide what's best for you, remember that more tooth and grit is equivalent to less detail.
Color
Color should be taken seriously by most artists; it can make or break the vibe and theme they are trying to get. Some paper colors are Eggshell White, Pure White, Light Grey, Cream, and more. Some packs of paper can come with assorted colors, so you better watch out for that in picking your paper.
Best Paper for Oil Pastel on the Market
The products that we will mention in this list are all great and best used with oil pastels. Although these papers will differ with the amount of texture and tooth. A more toothy paper will be better for layering, while a paper with barely enough tooth will be excellent for precise illustrations. Stick at the end for more tips in choosing the best paper for you.
1. Arches Oil Painting Pad – Best Paper for Oil Pastels
Unpacking and First Impressions
The Arches Oil Painting Pad comes with 12 sheets in each package, and each sheet is pure cotton. Each sheet feels tough from the first touch, and that gave a lot of insight into what this paper has to offer. The paper is cold-pressed, and interestingly enough, one side is slightly smoother than the other.
It's a 300 GSM, very thick textured oil paper, ideal for all sorts of applications. The paper is perfect for quick sketches in oil with diluted or heavier paint. But it's also very useful for applying oil pastels.
You can get the Arches Oil Painting Pad between two sizes, a 9-inch x 12 inch and a 12-inch x 6 inch. And honestly picking between these two options comes down to your intended use.
If you want something that you can use outdoors and bring everywhere, then the 9-inch x 12 inch is probably the one for you. And if you're looking for canvas alternatives or if you're working on a larger project, then the 12″ x6″ might be the best size for you.
Performance
This paper is pretty tough, and it can take a ton of beating, which is excellent especially with specific application techniques of oil pastel like heavy pressure blending and color mixing which tends to destroy certain types of paper slowly.
One advantage that canvas has over paper is that it can hold oil well as oil can't dissolve canvas as it would do to paper. That is not the case with the Arches Oil Painting paper.
You can apply quite thick strokes of oil pastels to this paper without any fear of buckling or crumbling. That means that the paper can be just as versatile as a canvas. It has a somewhat effective oil barrier that prevents the oil from soaking the paper and potentially damaging your work after some time. And the 300g weight of this paper also helps prevent these issues.
But even though the oil comes through the barrier, it won't ruin your work with halo and bleeding. The paper does absorb water, binder, oil, and solvents, but it does slowly and evenly, so you have tons of time to work with the paper's surface. Once you're done, only the pigment and paint will remain on the surface. The paper has a rough texture and that helps with blending and mixing colors.
Arches claimed that this paper wouldn't need any gesso or priming to work with oil, and they succeeded in doing that. Thus, this is worthy of being recommended to use portably, while also delivering a very similar performance to what a gessoed canvas would bring.
Pros and Cons
Ready to use for oil painting
Strong and durable
Perfect surface (not too smooth, not too textured)
Highly versatile
Paper edges have rough cuts
Final Thoughts
Whether you're experienced or not with oil pastels, the Arches Oil Painting Pad is something that you should consider to try to improve your skills. It requires no prior priming with gesso, and it's toothy while also less textured to make sure that your oil pastel's pigment will adhere on the paper while also making precise illustrations possible.
Result
9.3
This oil pastel pad is ideal for anything that a canvas can do, and the best part is that you don't even need to prime or gesso anything with this paper, you can use it as is and deliver the best quality I've seen for a paper. Whether you're a novice or an expert, you can take on the full benefits and advantages of this paper.
2. UART Sanded Pastel Paper – Best Oil Pastel Paper for Wet Techniques
Unpacking and First Impressions
This particular line of UART paper has micro-sanded textures on both sides, which gives it its unique name "Sanded", and this paper is suitable for wet techniques.
The sanded paper brings its pros and cons when working on solid mediums like pastel and pencils. They shave off and hold more pigment to the surface. Other than that, sanded papers also have high resistance to buckling against water and extreme blending. The UART Sanded Pastel Paper offers both that for an affordable package.
This paper will come in a ten-sheet package, and it comes with a 9in x 12in size. While it comes in seven grit grading from 240 to 803, we're recommending the 400 grade as it brings the best performance for most oil pastel paintings. The paper's surface feels rough and highly textured, but it's great that the grains were spread out evenly.
Performance
The first thing that you should guarantee when finding a paper that you'll use with wet mediums and techniques is the ph level of the paper. And with this paper, we have made sure that it is acid-free and has a neutral ph level. It'll essentially eliminate the chances of oxidizing and damaging your art, especially if it was painted with wet mediums.
The sanded surface on each sheet of this paper has a velvety aspect, which makes it perfect to work with oil pastels. The pigment will stay on the surface of this card stock for an extended period of time until you blend or wipe them off. And given that there are two surfaces on every sheet gives the dry mediums more than adequate working space to show their full potential.
We've tried a technique where you'll soak your oil pastel drawing with some water to smoothen it out. And the biggest problem with other paper is it loses its tooth and grit after being exposed to wet mediums, making further layering a problematic task. With this paper, that's not a problem as this retains its grit even after being thoroughly soaked. On the other hand, the high grit and tooth on this paper make it hard to put in tiny details. But, layering, blending, and smudging will never be a problem with this paper.
Pros and Cons
Great for wet mediums, layering, and blending
Does not loose grit and tooth
Archival quality paper
Does not retain high levels of detail
May have too much grit for some mediums
Final Thoughts
This paper is straightforward, it's incredible with wet mediums, tons of layering and blending, and even after all the abuse, it won't lose its grit and tooth. I think this paper would be excellent for artists that work on abstract art, and it would also work correctly with beginners since it's not necessary to prime or gesso.
Result
9
If you want to take your artwork and use crazy techniques on it, then this paper might just be for you. Drawing small and precise details is nearly impossible, but you can put on tons of layering, blending, and a ton of beating.
3. Clairefontaine PastelMat No1 – Best Oil Pastel Paper For Detailed Art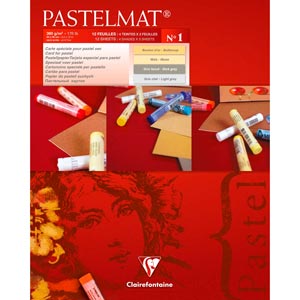 Unpacking and First Impressions
This paper comes in tons of varieties, but the one we're taking a look at is the PastelMat No 1, which is the one you want to get for pastels. The paper comes with 12 sheets that are glue-bound together, also making it easy to tear out. Although some people won't like it, the paper comes in four shades of color which are Buttercup, Maize, Dark Grey, and Light Grey. Each color comes with three sheets each, thus completing the 12 sheets, each has a weight of around 360gsm making it thick enough to handle heavy pressure and blending.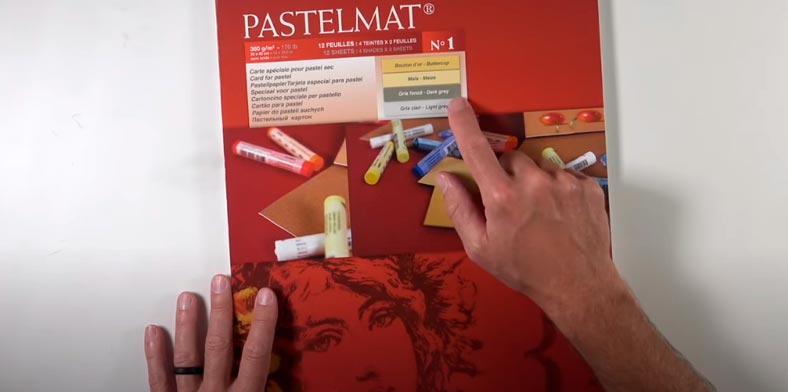 Besides the card stocks, there are also protective sheets sandwiched between each page, again to protect your finished artwork from transferring to the back of the previous page. On the first touch, the paper feels unique; each sheet has a velvety texture on the front while the back feels and looks like standard glossy card stock.
A slightly smooth texture on the surface makes it good for blending and layering, but at the same time, it maintains a good grip on the pastels giving you control over every stroke you make. The Pastelmat No1 is not very toothy at all, which makes it easier to handle details, but if your drawings are filled with lots of intricate parts then this might be a bit of a struggle.
Lastly, you can get this paper in three sizes:
18cm x 24cm
24cm x 30cm
30cm x 40cm
Performance
There's something special with this paper, it's the texture and composition. Earlier we described it as a soft velvety texture. It turns out that each sheet of paper has its surfaces treated with a special coating made of cellulose fibers. These fibers make a huge difference; they have made the surface fully smooth and soft.
In contrast, the cellulose fibers offer micro-abrasive properties that grab the pigments of oil pastels, and it does it so well that it can be comparable to what a sanded paper would perform.
Unlike pumice or sand on sanded paper, these cellulose fibers don't cause roughness to the texture of the paper. In return, there will be no compromises made to the preciseness of the paper, making it entirely suitable with detailed artwork.
You can't do wet techniques with this paper because 100% pure cellulose lacks a barrier that can resist any moisture from seeping in. However, what Clairefontaine's pastel paper excels best is dry medium. And since it also has a thickness of 360gsm, you can easily do heavy layers, blending, and scraping without worrying about the paper tearing or buckling. You won't battle with having too much grip, and too little tooth, instead you're getting the best of both worlds.
Pros and Cons
Has a unique cellulose fiber coating
Grabs pigments generously and accurately
Has protective sheets in between pages
Can work with most oil pastel techniques
Not suitable with wet mediums and techniques
Final Thoughts
We recommend this card stock for everyone; its unique texture is something that every artist should experience and try to work with. And with the glue-bound format, this could also be convenient. This is the one you need to get if you're working on a masterpiece or a very detailed artwork.
Result
8.8
Making detailed artworks using oil pastel is rather challenging since most papers for oil pastels are too textured. The best thing about this paper is getting the best of both worlds between precision and easy pigment transfer.
4. Strathmore 300 Series Bristol Vellum Pad – Best Oil Pastel Paper For Beginners
Unpacking and First Impressions
Strathmore is one of the most famous names in the artist paper industry; they are producing a whole line of papers that can work with beginners and professionals, and in this case, they made a pad for oil pastels. The Strathmore 300 series Bristol vellum pad is mainly aimed to work with beginners and students. For the price it's going to be sold, this is one of the best sketchbooks you can get when used with oils due to its cheap price and good performance.
You will notice the toothy surface on the vellum from the first touch. And it also has a lot of texture to work with, so this paper would be excellent for beginners to understand the effect that toothy paper gives on certain illustrations, as well as give students a path to explore some and try new and different techniques.
This vellum pad comes with 20 sheets that are glue-bound making sure that your works are organized while also letting you tear the pages easily. Each page has a paperweight of around 270g, making it thick and strong enough to handle moderate rubbing and blending.
Lastly, you can get this type of pad in three sizes:
9in x 12in
14in x 17in
19in x 24in
Performance
For the price, this is one of the most satisfying oil pastel pads you can get today. The paper quality was very decent for its cost, and it performs well with oils while preventing any bleed-through or ghosting effects. But, as a porous and toothy vellum surface, don't expect that this pad will perform with bliss on precise and detailed illustrations. Although you can get larger sizes and have a greater area to put more details.
You can explore lots of oil pastel techniques with this paper, and as you might already know, a toothy paper will accept more pigment from the pastels, you can easily do tons of layering, scumbling, sgraffito, and stippling.
On the unfortunate side, you can't use wet mediums and techniques like oiling on this paper since this is purely designed for dry mediums. If you're stubborn, the oil or water will seep into the paper and make halos.
Pros and Cons
Beginner-friendly
Comes in three sizes
Easy tear design for finalized works
Great for practicing and exploring new techniques
Can't handle wet mediums well
Paperweight is slightly lighter than recommended
Final Thoughts
Overall performance is fantastic, it is beginner-friendly and experienced and talented artists can take advantage of its quality, and it comes cheaper per page than other premium paper. But this is missing some critical benefits that more premium paper has such as oil barrier, a surface capable of resisting buckling and tearing under intense blending and scraping.
On the positive side, this paper is excellent for practicing your skills and exploring new techniques. And all that matters with this line of paper is for you to have fun and learn.
Result
8.8
Everyone has to start somewhere, and most of the time, we're looking at prices and numbers, instead of the quality. The best bit about this paper is the price per page value which is way cheaper than every other paper on this list, yet it still delivers one of the best quality you can find.
5. Sennelier Pastel Pad – Best for Sketches on The Go
Unpacking and First Impressions
Sennelier made its name long ago with the high-quality range of paints and coloring materials they manufacture. And as for the Sennelier Pastel Pad, they are one of the few brands that made a paper dedicated to oil pastels. This paper comes in a spiral-bound pad and has a total of 12 pages, and what's great is that it comes with protective paper inserts between each page to prevent your finished pastel art from transferring marks on the other page.
Each paper is heavy, at around 340g, you can feel the thickness on this paper. At the same time, the paper has a distinct smooth texture caused by slight tooth but is much more porous compared to other papers.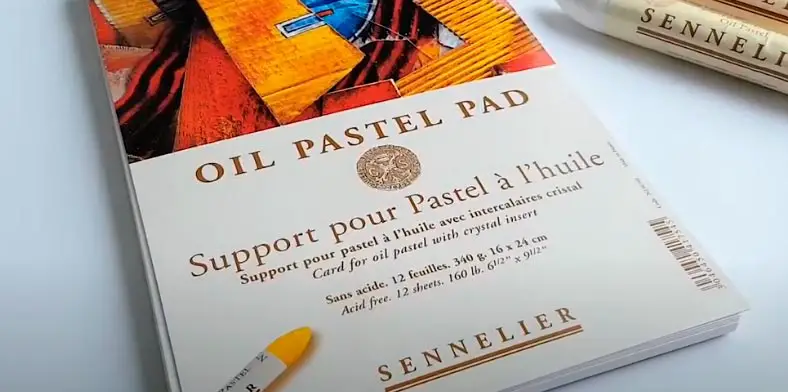 This paper doesn't need any priming before using them with oil pastels, but some artists prefer gessoed surfaces to make sure their work will withstand years of time. But even though there's no gesso used on this paper, we can see why some might prefer to use one. While the wear-resistance of this paper is far superior to other papers, it can't hold oil pastel as well as gessoed surfaces.
So, in theory, this paper should be better for detailed illustrations, and with the heavyweight and porous surface, heavy blending and mixing won't be much of a problem. Lastly, this pastel pad will come in a size of 9.5-inch x 12.5 inches.
Performance
As a paper specifically built and designed to be used with oil pastels, the Sennelier Pastel Pad delivers exceptional performance, making it worth every penny you're paying it for. The oil pastel adheres perfectly on the entirely white and porous surface. Generously applying oil pastels and blending some samples did not cause any harm to the paper's body, it did not bleed or produce halos considering that the paper hasn't been primed or gessoed in any way.
What's really useful about this paper is that it resists bleeding very much, which means you can work bigger and not worry about any white spots or halo forming in your work. The absorbency of this paper is great; it absorbs water, binder, oil, and solvents but only slowly and evenly. And if you're done with your painting session, then all the paint will remain on the surface while also giving a matte finish to the whole piece like how it should be.
It's also worth mentioning that this paper will also perform well with additional oiling, and it will even do well with techniques like sgraffito where you scrape a layer of pastel. Even after all this abuse, the paper will not buckle and tear easily.
Storing finished sketches and artworks in this sketch pad isn't much of a problem because of the protective glassine paper sheets. Unlike wax paper and other protective papers, oil pastel won't transfer as glassine paper can resist grease and water from adhering and seeping through the protective sheet.
If you're going for a high detailed artwork, then this might not be for you as this will produce a pleasant blur that some people might love or hate. It won't bleed, but it won't be perfect.
Pros and Cons
Brings excellent performance even without gesso or priming
Will not produce bleeds and halos
Has protective glassine sheets
Produces a softening effect
Final Thoughts
One of the most significant benefits of this pad is the convenience it brings with its spiral-bound format, and with the glassine paper inserts, you can work with multiple projects at once without worrying about accidentally damaging or smudging your work while the book is stored.
But, the biggest downside is that it cannot bring fine art quality. We would only recommend this pad for a casual painter needing the best sketchbook for oil pastel.
Result
8
This pad of paper is close to the quality of the Arches Oil Painting Pad, but this paper is not as ideal for wet mediums and tough blending and layering. But, it did gain a ton of benefits with the spiral-bound format and protective sheets which is highly beneficial for portable sketches.
Conclusion
Each paper we mentioned are best at something, some paper can do great things in assisting your work, and other papers may not allow the things you are envisioning. So be extra careful with picking your paper.
It's important always to remember that the quality of the paper is equally important as with the quality of your mediums. Experiment out there! Combine different kinds of paper with other mediums, use our buyer's guide in deciding what to try next. Always lookout for new types of paper, and remember to always have fun with every material you have!