Glass can be a great canvas to use for painting. It provides a smooth surface to work with and can produce some beautiful visuals, especially when illuminated by natural light shining through the glass. If you're looking to paint on glass, it is important to have the right materials, especially when it comes to paints. While there are a lot of paints that work well with glass, it's important to first plan out what kind of glass you'll be painting and where your painting will be displayed.
Best Choice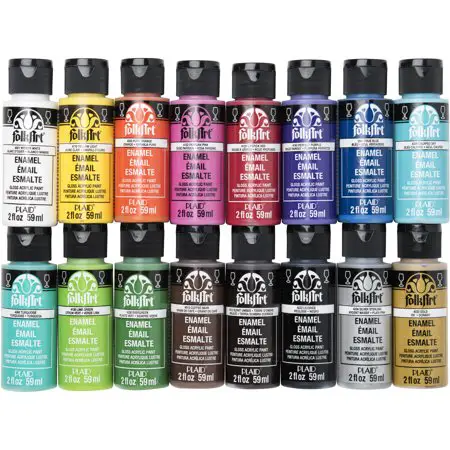 FolkArt Enamel Glass Painting Set
Best Paint for Glass
It's easy to work with and doesn't need to be bake cured so there is less work involved with making a finished piece. The durability of the paint is what makes them great for glass jars thanks to the scratch-resistant seal that forms once the paint dries.
Check Price
Things to Consider Before Buying Paint for Glass
Which product to choose really comes down to personal preference and what kind of look you personally are looking to achieve, so it's hard to really list them from best to worst. If you are just starting out with glass painting with little to no experience though, some of these products are certainly far more beginner-friendly than others, while some products are clearly more geared towards those who have had at least moderate experience working with glass painting.
Things to Consider Before Painting
Before you start your glass painting, you'll first want to consider where you'll be painting and where your pieces will be displayed. Certain paints are more durable to the elements or certain conditions than others. For example, if you're painting a display window or something that will be outside and exposed to rain, you'll want to use something like acrylic or oil-based paint so that rain won't wash away the paint. If you are displaying your work indoors and want a more translucent look to allow light to pass through, a water-based paint might work, or certain kinds of enamel paints. Once you've decided what type of paint to use, it's time to choose your paint.
What paint can you use on glass?
When it comes to painting on glass, there are generally three types of paints you'll have to choose from. What paint you choose will depend on the type of look or finish you're going for and how you want the piece to look when struck by light. You'll likely use either enamel, acrylic, or water-based paints. Here is a breakdown of the general look and pros and cons of each.
Enamel
One of the biggest benefits of using enamel paint is the wide variety of surfaces it can be used on. Enamel paints work on most hard smooth surfaces, and usually dry as a solid vibrant color. Enamel paints are also extremely durable, Enamel paint comes in a wide variety of colors, and works well on any of the following surfaces:
Wood
Ceramic
Glass
Metal
Tile
Any smooth surface
Enamel paints are extremely versatile but come with their own set of disadvantages. You'll need to clean and prepare any surface you plan on painting on using enamel paints. You might have to prime the surface you're looking to work on with a primer before painting over it with enamel paint as well. One of the other downsides is that many oil-based enamel paints can be potentially toxic while still wet, and also flammable. Water-based enamel paints are much less toxic though.
Acrylic
Acrylic paints are another great option for painting on glass, especially if you're looking for a fast-drying paint that will allow you to finish your projects quickly, or if you are producing a series of pieces in bulk. Much like enamel, acrylic paint is very versatile, allowing you to paint on almost any surface that is oil and wax-free. Best acrylic paints for glass also dry relatively quickly, though if you would prefer to take your time painting, there are other mediums you can mix it with to keep it from drying. Since acrylic is water-based, it is easy to wash off your hands and brushes while it is still wet, though it can be difficult to remove once it's dried. Acrylic is also mostly non-toxic and water-resistant when it dries. Acrylic paints are also great for starting out as they are relatively inexpensive.
Despite their many pros, acrylics have their own set of disadvantages as well. The biggest downside is how difficult acrylics can be to remove once dried. Keeping a container of water to soak your brushes in or wash your brushes as you paint is recommended, as once the paint dries on your brush it can be a nightmare to get out. Acrylics are also nearly impossible to remove from nail polish, so it might be best to wear gloves while painting with acrylics if you have painted nails. While the colors are vibrant, they tend to dry a little darker than how they look when wet, so take this into account as you work on your pieces. The other major downside to acrylic paint is that not all acrylics will properly adhere to glass. Depending on what the specific paint uses as a base (water, oil, alcohol, etc), the paint will be more or less prone to coming off when washing with water or soaps.
Paint Markers
Paint markers tend to allow for precision which traditional paints and brushes don't allow for. You can easily write with them, or use them to fill in small gaps or lighter areas you want to fill in that the brush may not have fully covered with paint. While not the best for covering large areas, paint markers are great for fine-tuning or handwritten lettering if you're not comfortable writing with a paintbrush.
The big downside to painting markers is that many of them need to be heat cured, and you need to make sure the temperature you heat them to once applied to your piece is the same temperature you need to heat cure your paints too. Unless you plan on working exclusively with paint markers, they can take a considerable amount of planning to use in combination with other paints.
Best Paint for Glass: Comparison Chart
There are hundreds, if not thousands of paints out there that would work for glass painting, but hopefully, this list gives you a quick and easy place to start if you're a beginner, or some new and quality options for those of you who have more experience with glass painting.
Now that we've gone over the pros and cons of each type of paint, it's time to start making some recommendations on specific paints to use for your glass painting. While most paints aren't objectively better or worse than others, the type of finish you're looking for is going to be one of the biggest determining factors on what paint you use.
FolkArt Enamel Glass Painting Set − Best Paint for Glass Jars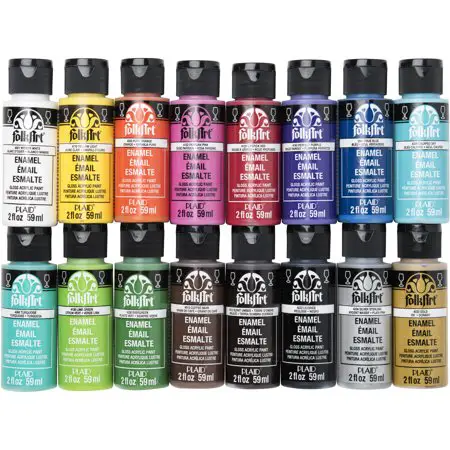 The FolkArt Enamel Glass Painting Set comes in a 2oz bottle the same color as the paint. This paint set gives you all the colors you'll need to get started, including a total of 16 colors in a mix of both chromatic and metallic colors.
Performance
These paints are self-sealing paints, meaning you don't need to do any sealing or additional preparation after painting your glass to make sure the paint stays. The paint is smooth and easy to work with, and dries relatively quickly (within a few hours). The paints also have a strong pigmented finish to them, retaining their bold colors after they dry, and are also fairly scratch resistant. The paints also mix wonderfully, letting you create your own colors with ease. The only issue with these paints is that they are not meant for outside use, and can't really hold up to the wear and tear of the elements. FolkArt does have a specific product line for outdoor glass paints though, so those could be worth looking into if you plan on displaying pieces outside.
While it may not look like much when you first squeeze it out of the bottle, once it dries the colors really shine. Since it uses water-based enamel, they will have to be bake cured in order to keep from washing off, especially in the dishwasher. The paint is very easy to use but may take a little getting used to if you're used to thicker oil-based paints. It can be used on other surfaces as well but has a 21 day cure time if you aren't baking your piece (for example large pane glass you can't fit in an oven or something flammable like wood).
Recommendations
If you are brand new to glass painting, this is one of the better paints to pick up. It's easy to work with and doesn't need to be bake cured so there is less work involved with making a finished piece. The durability of the paint is what makes them great for glass jars thanks to the scratch-resistant seal that forms once the paint dries. Don't paint any part of the jar that will come in contact with food or liquid though, and leave an unpainted rim around the mouth of the jar if you plan on using it to drink from.
If you're comfortable with bake curing or are looking to start learning how to bake cure, this is a great set to pick up as well. It offers a wide variety of colors to start with and can be used for both semi-translucent and opaque painting styles depending on the number of coats. The scratch-resistant seal that forms after drying and curing also helps your pieces last longer. Overall this set gives you everything you need to get started and works for nearly any project.
Pros
Easy to work with
Vibrant Colors
Mixes well
No additional sealant or baking required
Top shelf dishwasher safe
Cons
May require sealant if displayed outside
Long curing time if not bake cured
DecoArt Americana Gloss Enamel Paint − Best for Ornaments
These 2oz bottles are colored the same color as the paint inside and have "Gloss Enamels" printed in large letters on the front of the bottle. The top of the flip cap also has a round sticker with the color of the paint inside, which can be helpful for easily picking our the bottle you need if you keep them in a storage case.
Performance
This is one of the more versatile options if you're looking to branch out from strictly glass painting, as these work on glass, glazed ceramics, wood, paper, plaster, metal, canvas, and other smooth surfaces. If you want a dishwasher safe finish, you'll have to bake cure the pieces, but otherwise simply letting them air dry is enough. The paint is smooth and easy to work with, and the colors mix well. The paint is also water-based and non-toxic, though as with most paint you should avoid painting surfaces that will come in contact with food or drink.
Recommendations
This paint is great for ornaments because of both its versatility and its low curing time. Since you're not going to be washing these in the dishwasher like you would bowls or glasses, the cure time for air curing is only 4 days, which is relatively quick. The paint can scrape off a bit too easily though, but this shouldn't be too big of an issue since you'll be handling your ornaments with care anyway.
Pros
Vibrant colors
Short air cure time
Can be used on a variety of surfaces
Non-toxic
Can be baked for extra strength
Cons
Plaid Gallery Glass Beginner Set − Best Paint for Glass Windows
These paints come in clear bottles with twist-off caps, each cap having a hanging loop at the top. The paint is clearly visible through the bottle, letting you see not only the color of the paint but also how much you have left without having to open the bottle. Each bottle also has a sticker with the Gallery Glass logo with 'window color' written underneath.
Performance
This paint is great for getting a stained glass look. While the paint looks solid while wet, it dries semi-translucent, allowing light to shine right through. While it does look beautiful once dried, the paint itself is only slightly weather resistant and can easily chip off or bubble in extreme heat. The color will also fade over time as it is exposed to the sunlight, so you may eventually have to add additional coats, later on, to keep the colors vibrant. If you use it on your windows, it may be best to paint the inside of the window just to be safe. You may want to start with a few test pieces to see how the colors dry so you know how many coats you'll need to apply, as some colors can be barely visible if you only use a thin coat of paint.
Pros
Easy to use
Easy to achieve that stained glass look
Somewhat weather resistant
Cons
Can chip easily
Warps or bubbles in extreme heat
Can fade over time
Long cure period of a few weeks
Artistro Acrylic Paint Markers − Best Paint Pens for Glass
This set of 12 paint pens comes prepackaged in a box and gives you all of the colors you'll need to get started if you're new to using paint pens. Each pen is the same color as the paint inside, and have caps to help keep the pens from drying out. The paint pens use acrylic paint, which dries relatively quickly so you don't have to worry too much about smearing your designs as you draw.
Performance
These pens have a medium tip, allowing for great precision and control when it comes to detailed designs. The pens only take a moment to prime, and the color stays vibrant even after drying. While they are durable, it is recommended you bake cure any pieces you plan to clean in the dishwasher. They are also extremely versatile, working well on not only glass, but also rocks, metal, ceramics, and even canvas with minimal bleeding.
Recommendation
If you're looking to work with paint pens, this is a perfect place to start. You get a wide variety of colors, and the pens are thin enough to not be bulky, but at the same time have enough weight to them to give you a good sense of control over the pen. While you can't get the same kind of strokes and textures as you would with traditional paints and a brush, paint pens lend themselves well to writing and hand-drawn artwork.
Pros
Medium tip excellent for detail work
Good color variety
Quick dry
Colors retain vibrant hue after drying
Cons
Mark type can't vary much due to fixed tip size
Must be stored sideways
Can eventually dry out if not used or shaken regularly
Design Master Premium Metallic Spray − Best Spray Paint for Glass
The Design Master Premium Gold Spray Paint comes in a large can, the color of the paint inside displayed behind the logo. The cap and area below the logo have a black background with the color and paint information printed over it. The can itself is 11oz in size and durable.
Performance
The paint dries quickly and the color stays vibrant after drying. There can be a little residue after spraying, but it can easily be wiped away with a wet rag, so you don't have to go overboard preparing to clean a huge mess. Just tape off the area you're looking to paint beforehand to keep the paint relatively within the workspace. The only real issue with this paint is that the nozzle does tend to get clogged occasionally, and even after drying the paint can sometimes wipe off even days later. If you do paint something using this paint, it's recommended to cover the paint in a sealer after it dries to prevent the paint from rubbing off.
Recommendation
I can really only recommend using this paint if you are painting a large piece of glass with a solid color. It is too imprecise for detailed work. If you decide to spray paint, you'll want a drop cloth and some painter's tape at minimum to prepare your area and minimize the mess. Also, pick up some sealant to apply after the paint dries to keep the paint from rubbing off.
Pros
Easy to clean
Great at covering large areas quickly
Vibrant color
Cons:
Nozzle clogs easily
Paint can wipe off very easily even after drying and may require additional coating
Conclusion
When it comes to glass painting, there are a lot of options out there for paints. While the most popular option for painting on glass is enamel paint because of how well it works with smooth surfaces, acrylic and paint pen options are out there.
When working with any kind of paint product, always read the instructions and safety information. Many of these paints are either top shelf dishwasher safe only or not even dishwasher safe, and some require extra steps to ensure they don't wash off your piece. Following the product instructions will ensure the paint will stay vibrant, and your time and effort won't be wasted.
People Also Ask
How long does it take for glass paint to dry?
The length of time it will take paint to dry on the glass will depend mainly on what type of paint you're using. There are actually paints made specifically for glass called glass paint, but there are numerous types of paints that can be used on glass, such as acrylic enamel, spray paint or even oil paint. Most paints will dry between one and three hours when used on the glass; however, it is recommended that you don't wash or clean the glass item in question for up to three weeks after it's been painted to avoid doing damage to the paint.
How do you prime glass for paint?
First of all, your glass needs to be clean and dry. You'll want to wash the glass with warm water filled with generous detergent, and then rinse it in warm water as well. Then, using a paper towel, you'll want to go back over your glass piece with rubbing alcohol or vinegar to ensure there is no soapy residue left on it. Leave it out to dry. Most places say 15 minutes is plenty of time. I say, if you have the time, give it at least a half-hour to be sure it has air-dried completely. Then use an alcohol-based primer on a paintbrush to cover the surface of the glass. Alcohol-based primers are quite runny, so you'll need to brush it on very quickly. It will dry fast also. After it's dry, you're ready to paint.
How do you remove spray paint from glass?
Getting spray paint off of glass can be quite difficult, but it isn't impossible. However, while doing it, you have to be careful because it can be dangerous. The easiest way is to take your glass piece and cover it in Windex. You can use other glass-specific cleaners, but we've found that Windex works best. You'll want to spray a liberal amount onto the glass. Your glass needs to be wet - not damp, but wet - the entire time you're working on it. So don't be shy about respraying regularly. Once your glass is wet, take a small razor blade held at a 45-degree angle and gently remove the paint from the glass. Be extremely careful not to scratch your glass or cut yourself!
How do you seal paint on glass jar?
After painting your glass, let it dry at least 24 hours or longer. If you used acrylic on glass, the paint really only needs to be set to seal. It takes time, a few weeks at least, but it will seal itself over time. Other types of paints, though, will require heat to seal. This is usually done by baking the glass in an oven. If your glass item is, in fact, a glass jar, this will work perfectly. However, if your glass item is too large to fit in an oven or if you don't have an oven available, you can use a hairdryer on low heat instead. If you do bake your glass, set the oven at 330 degrees Fahrenheit and bake the item for anywhere from half an hour to 45 minutes. After the jar is removed and left to cool, the paint will be completely sealed.
What kind of paint is best for glass?
There is actual glass paint available for purchase now, but it is expensive and is largely used for large-scale projects such as kitchen countertops and other household painting. For decorative glass painting, most artists use acrylic enamel paint. It is easy to paint with and lasts a long time. Spray paint is another popular option as well, though you'll have less control over it than you would be painting with acrylic enamel paint and a brush, so if you want to do something detailed, spray paint is probably not the best option.
What paint to use on glass?
When painting on glass, it is important to use paints that are specifically formulated for use on non-porous surfaces. Acrylic paints or enamel paints are a good choice because they dry quickly and have a glossy finish that mimics the look of glass. Oil-based paints may also be used but they take longer to dry and can be more difficult to clean up. Additionally, it is important to use a primer on the glass surface before applying the paint to ensure that the paint adheres properly.
What paint to use on glass windows?
The good option is to use an exterior-grade acrylic paint, as it dries quickly and can withstand exposure to sunlight and weather. Another option is to use enamel paint, which is also durable and weather-resistant. Oil-based paints are not recommended for use on glass windows as they take longer to dry and can be more difficult to clean up. Additionally, it's important to use a primer on the glass surface before applying the paint to ensure that the paint adheres properly and you might want to consider using a stencil or masking tape to ensure clean, straight lines.