Acrylic is the most widely used type of paint that's not limited to art. It's used to paint wood, concrete, rocks, and tons more. Acrylics have combined oil paint and watercolor properties, and you can get acrylic paints in spray cans, marker pens, tubes, tubs, and bottles plus, you can get them pretty much everywhere. But, compared to oil paint and other mediums, acrylics are not even a century-old medium.
Best Choice
Liquitex Professional Heavy Body Acrylic Classic Set
Best Acrylic Paint
This Liquitex Paint set is well known for bringing the best performance for experienced artists and even professionals. It brings superior handling performance bringing you precise fine details, and this can bring advanced texturing to the table. This kit is also straightforward to use even if you're a beginner; that's why we picked this as the best choice. But there's a slight caveat to it. Find out on the review.
Check Price
What to Look for When Buying Best Acrylic Paint
To get better deals and understand this review better, you should know these terms to determine the best paint for you to buy.
Grade
Are you a beginner or a student? A professional? Or a passionate hobbyist? No matter how many skills you have, you need to keep your material's grade in mind. Some grades correspond to your skillset. Beginner-grade paints are non-toxic and easy to use and require no special handling. While your skills go up, you might need professional-grade paints, which might be toxic due to additives. It might also be harder to use and requires surface preparation to get the best results with your work.
Number of Colors
Did you ever consider the number of colors that come with your paint kit? Do you get the one with the most colors or with the least? Since more colors make a kit more pricey, I recommend getting fewer colors if you're a beginner, perhaps a kit that comes with primary and secondary colors, plus white and black. That way, you can also practice and learn color mixing.
Permanence
Permanence determines the paint's ability to hold its color for a very long time. And, of course, nothing beats the trusted oil paint when it comes to permanence since acrylic isn't even a century old since it was invented. To make sure you're getting the best acrylic paint, you should always consider an acrylic's permanence when getting your kit. If you're a professional, you should get professional-grade or archival quality paint, which is rated to resist fading and holds colors for a much longer time.
What's the best paint for pouring?
One of the most famous acrylic paint techniques in recent years is pouring. You let the paint make the art by swirling, spinning, or even shaking the canvas, to create intricate and complicated patterns that are hard to make or replicate by hand. The best paints for this technique are light body acrylics or, in simple terms, runny and watery acrylics.
Viscosity
Viscosity simply refers to the consistency or thickness of paint. With acrylic paints, there are commonly heavy body acrylics and light body ones. Thicker or heavier paint will be much more friendly to details, layering, and texturing. While lighter or thinner paint might be best for washing and pouring. If you haven't decided what to do in your next artwork yet, I recommend getting thicker acrylic paints. With those, you can easily add water if you need lighter paint for a certain task.
Toxicity
Toxicity refers to the paint's potential to cause harm when you inhale its fumes or if it touches your skin. Toxic paint can cause dizziness, nausea, skin irritations, and respiratory system problems. One of the best selling points of Acrylic paints is that it has significantly less harmful chemicals than what oil paint would bring. You should look out if the materials you're using have a non-toxic label, especially if you are a bit sensitive to toxic fumes or if you'll let children use the materials.
Best Acrylic Paints Comparison: Table of the Top Five Brands
Getting the best acrylic for you is not as straightforward as you might think. You might need to consider the primary purposes of your artwork. Is it for practice? Is it for artwork ordered by a client of yours? Or is it for a painting you might want to keep for a very long time, perhaps a portrait of someone you know? Whatever the reason and purpose may be, there are certain qualities a paint needs to do a certain job. And in this article, we'll help you with that. Here are some of the best acrylic paints we found.
1. Liquitex Professional Heavy Body Acrylic Classic Set – Best Acrylic Paint for Professional Artists
Our first paint comes from Liquitex, a company that has dedicated its life to improving acrylic paint's performance. Liquitex actually sold the first commercially available water-soluble acrylic paint in the 1950s. It has a wide variety of colors including its brilliant color line, which is basically neon. Other than acrylics, Liquitex is also known for making professional-grade gessoes and varnishes.
Unpacking and First Impressions
The package comes in a simple white box with a small window wherein you can see the kit's colors. All twelve paints come in a tube with a screw cap for a tight seal.
You have to physically open up the tube in order to see what the colors look like because the color swatch can be different from the paint inside of the tube.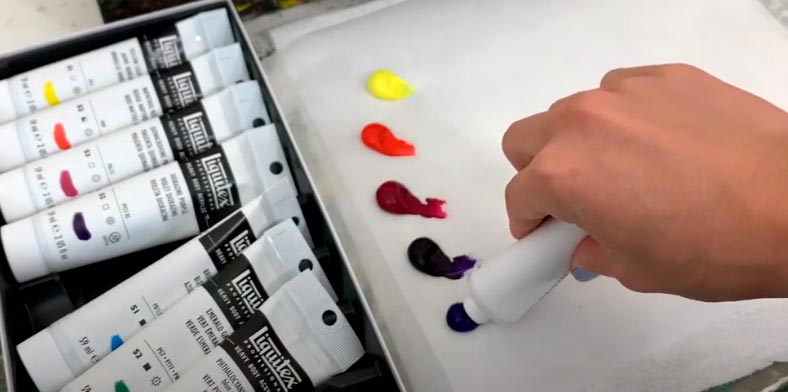 The downside to this set is that there are no instructions included on what each color is specifically for. However, most acrylic sets do not typically come with this information either. So unless you're already familiar with the different hues and how they can be used, you might want to do some research before attempting one of your pieces.
The paints have a smooth, creamy texture with good coverage that is also lightfast and permanent. And they are of artist-grade quality, making them perfect for professional artists.
This set features 12 classic colors, which are:
Yellow Light Hansa
Naphthol Red Light
Quinacridone Magenta
Dioxazine Purple
Phthalocyanine Blue
Brilliant Blue
Emerald Green
Phthalocyanine Green
Bronze Yellow
Ivory Black
2x Titanium White
This set uses the Heavy Body formulation by Liquitex, which essentially means that this is thick and highly pigmented. This might also be good for layering and detailing. However, this might not be the best paint to use for pouring and heavy mixing.
Performance
Liquitex's Heavy Body Acrylic is known for many things, and one of those things is its superior handling. You might expect a hard-to-drag, sticky, and very viscous brushing experience when you see this paint's consistency. But no, it's not sticky or slippery at all. Most people who'll use this might feel a bit weird at first, but once you got the hang of it, you may find that this paint is much easier to control for detailing and even texturing.
The colors perform very well, they don't darken much upon drying, and these colors stay accurate and resist fading for a long time since this is rated to have an archival quality.
Other than that, this acrylic paint also dries up into a flexible layer that'll resist cracking and flaking even if exposed to extreme humidity and temperature. That doesn't only benefit its archival quality, but that also opens the possibilities to 3D applications or extreme texturing and layering.
Liquitex paint holds texture really well and it looks great. It works excellent when you do bold strokes with a palette knife. It is also pretty opaque and covers most surfaces decently well.
The pigment load in this paint doesn't seem to be that high. When you thin them out with water, they lose a lot of their color and saturation. The low pigment load also means that Liquitex does not do acrylic washes very well.
Oftentimes the colors are way too de-saturated and the wash usually comes out on. Blending is inconsistent between colors with Liquitex. Some colors blend together absolutely beautifully, and then with other colors, it's a huge frustration and fight to get them to blend at least decently well like if at all.
Liquitex is not suited for a painting style that mainly consists of soft blending, acrylic washes, and glazing but it's excellent in holding textures. And it's great for people who do a lot of abstract or graphic art and who need a lot of texture in their paintings.
Pros and Cons
Excellent pigments
Archival-Quality
Flexible and water-resistant after drying
Best for detailing, texturing, and layering
It might be impractical and too expensive for most artists
Final Thoughts
This heavy body acrylic paint gives the best of both worlds between a thick and runny paint. It's easy to layer and detail while it's also not sticky and too draggy to work with. Although as great as it sounds, it might be too expensive for everyone to experience, and I recommend something more economical if you're a beginner.
Result
8.8
If you want the very best performance that a set of acrylic paint can bring, this Liquitex kit is one of the best products to start with. It brings everything a professional and clients might want, detailing, layering, and on top of it all, it's archival quality.
2. Arteza Acrylic Paint – Best Cheap Acrylic Paint
Unpacking and First Impressions
This next paint comes from Arteza, a company specializing in different art materials such as paint, canvases, pens, markers, and more. We're taking a look at their acrylic paint set, which includes 14 colors. Are you wondering if 14 colors are enough? Yes, it's more than enough, especially for entry-level paints. All you need with a paint set is the primary colors, the secondary colors, black and white. And mixing colors from your first entry-level paint is a great skill builder. Before we proceed, here are the 14 colors included:
Titanium White
Lemon Yellow
Yellow Ochre
Burnt Sienna
Scarlet Red
Crimson Red
Ultramarine Blue
Phthalo Blue
Pale Green
Phthalo Green
Burnt Umber
Mars Black
Silver
Gold
Each of these 14 colors is contained in tube pouches that are sealed with snap caps. Each tube also comes with 120ml of paint. So, the amount alone is a bargain for how much money you're getting this for. To wrap the kit all up, Arteza used a sturdy box that you can reuse for storing your paint tubes after each use.
Unlike Liquitex whose simple white box kind of implies professional quality, Arteza uses a more colorful and artsy design for their bottle caps and tube containers.
It doesn't seem like there's any additive in these tubes except maybe binders probably because these aren't density-adjustable. The box also comes with a color chart that shows what colors are in the set, which is good for beginners who don't know anything about primary colors but only see them as abstract shapes and formless mixtures of paint.
The best thing we like about this kit so far is the sheer amount of paint that it comes with. Sure it only has 14 colors, but you can mix different paints with those colors to get the color you want. And you won't have to be wary about wasting paint since you have 120ml per shade. Once you start using it, the first thing you'll notice is how thick it is.
The consistency is a tad short of being heavy-bodied, but the handling and stickiness feel like it is heavy-bodied upon using the paint with a brush.
Another good thing about these paints is that they're non-toxic and low odor. This makes it safe for use in an enclosed environment with no need to air out the room afterward – perfect if you live in a small apartment or have kids running around.
Performance
The paints are opaque and have a rich color. They cover well when you paint over them, but they won't totally obscure the underlying layer especially if it's dark or black in color.
With consistency, some people will have a great time mixing colors with this kit. Once you start using the paint, we recommend diluting it a bit with a tiny amount of water to get a smoother brushing experience.
You can also mix this with other acrylics to create a heavy body consistency which is great for making certain textures that usually need thick amounts of paint such as plaster walls and stone surfaces.
As mentioned previously, Arteza uses binders instead of additives so there's no chance of discoloration upon drying unlike what happens in additive-based acrylics.
Now, for the bad part. We've found that these paints perform inconsistently with each other. For example, when we mixed together Cobalt Blue and Titanium White to create a light blue shade, it yielded a color that was much darker than what was depicted in the chart. And this wasn't an isolated incident; every time we tried to mix different colors together, the results were always inconsistent no matter how hard we tried to get the same ratios.
Another issue is that some of these paints take a long time to dry. This makes Arteza's acrylic paint not very ideal for quick sketches or works-in-progress where you need multiple layers of paint over each other. Even if you wait overnight to paint on top of it, you'll still see some parts that are slightly smudgy.
Despite all that, we think that the colors included in this kit are all fantastic to use. Some shades have higher permanence than others, so we wouldn't recommend this to professionals. But then, it's still a fun kit to work with no matter how skilled you are.
Pros and Cons
Good pigmentation
Includes 120ml per color
Great for layering, blending, and impasto
Works for everyone
Inconsistent lightfastness
It feels a bit sticky
Final Thoughts
We think this is one of the best paints that an artist should use at least once. It's all worth it for the price, especially with the amount you're getting. It's fun to use, produces crisp and colorful artwork. Only be wary of this kit if you're a professional. Otherwise, give it a try.
Result
8.5
This kit does everything well; you can blend, layer, scrape, and tons more. And since this kit is water-soluble, you can always dilute your colors with water if they feel a bit too thick. Suitable for beginners up to experienced artists.
3. Liquitex Basics Acrylic Paint Tube Set – Best Acrylic Paint for Pouring
Unpacking and First Impressions
Our third product for this list is once again a kit from Liquitex. This one lies on Liquitex's Basics line of products, which meant this is a bit more affordable, especially since this kit has 36 tubes included. The color variation is not wide enough to make every color useful. For example, there are very similar shades of yellow, red, and blue. From first thought, we think that it could've been better if they ditched some color for more paint per tube.
The package comes in a large white box, and once you open that box, the chances are good that most of the paint is all jumbled up since nothing is holding them asides from a thin sheet of plastic. Moving on, each tube carries 22ml of acrylic paint, and we're glad they used screw caps on these since snap caps have a higher chance of leaking, especially if the paints are on a light box like the one Liquitex used on this kit.
They're easy to use, and there's no need to shake or stir them before using – just squeeze and go! We really like the fact that this paint set doesn't require any special mixing techniques; it's as simple as adding white paint to make light shades and black paint to make dark shades.
The Liquitex Basics Acrylic Paint Tube Set is a great set of paints for beginners. The colors are bright and vibrant, and they're easy to mix and apply. They also dry quickly, which is ideal for those who want to complete their paintings in one sitting.
Performance
As you would expect with Liquitex, the performance of this kit is excellent. It's thick and has a consistency similar to melted butter. Using it with brushes is an incredible experience.
Once you start using the paint, you'll find that it flows smoothly and easily across the surface. The colors are bright and intense, and they mix well together to create some beautiful effects.
Like the other Liquitex kit we mentioned, it sits perfectly between not being sticky and not slippery. With its consistency, putting details with fine brushes is effortless, texturing is also straightforward.
The consistency of the paint isn't too thick and not so thin either – it's just enough to give you a smooth painting experience but viscous enough to hold its shape well during application. It also dries up decently fast which could be both great and bad at times depending on what kind of artist you are.
You might be wondering why we picked thick paint for the best acrylic paint for pouring? The main reason is how great this paint performs, even if diluted with water. The colors are relatively accurate even when watered down, and it still has a bit of a creamy consistency, so it won't blend so easily with other colors, which will allow for great swirling and solid drips.
And use many colors that this kit includes, and you might get a great pour abstract waiting for you. But, as you would expect with cheaper equipment, some of the color's consistency is a bit stringy, some are not too lightfast, and some are not as pigmented as others.
Pros and Cons
Includes 36 colors
Great for artworks with fine details
Retains brush strokes for excellent texturing
Amazing paint for pouring
Careless packaging
Only has 22ml paint per tube
Final Thoughts
This type of paint is excellent for artworks that have tons of detail and texture. But due to the inconsistencies within the different variants in the kit, and considering that this performs very well even when watered down, we still recommend leaving this paint kit for pouring art.
Result
8.3
The kit's packaging is a bit annoying, it doesn't have a wide color range, and each tube has 22ml of paint. But, it's still one of the best paints we experienced with its good viscosity and handling. And other than that, it's fantastic for pouring, which we couldn't say for a lot of different paints.
4. Magicfly Outdoor Acrylic Paint – Best for Beginners
Unpacking and First Impressions
Our pick for the best paint for beginners is this paint kit made by Magicfly. It's effortless to use, and it can stick to every surface. This paint is designed for concrete and rock use, and it's also extremely durable since it's made for the outdoors.
It also happens to be one of the cheapest options currently available. The colors included in the kit range from light pastels to dark darks, so there should be something for everyone here. And even better, each color has its own unique name which is printed at the bottom of each tube. That's a nice touch as it can help you remember what color you're using if you have more than one open tube at any given time.
This kit comes in a Magicfly branded box, and inside, it includes 30 different bottles, and each bottle contains 60ml of paint. The bottle is soft and comfortable to squeeze, while it also uses a snap cap for easy use.
Unlike the last kit, the color variations on this kit are useful, and every color is easily recognizable since each color is bright and saturated. The only gripe we have concerning the colors is the whites since they only included two marshmallow whites in this kit, which are a bit darker than pure white.
One of the most important variables you have to consider if you're a beginner is your budget. And that's also one of the reasons why we chose this kit for beginners. One of the other reasons this is good for beginners is that it's straightforward to use. You don't need a fancy gessoed surface, and you don't need to worry about using primers and topcoats to use this for thick paper, canvas, card stocks, walls, ceramics, and rocks without further preparation. You can also use this kit on glass and fabrics with proper drying times.
Performance
This product is perfect for beginners who want to learn how to paint without worrying about too many things going wrong at once. The paints have a smooth consistency, so you should be able to achieve great detail while picking your colors with a fine brush or two.
This is a runny paint, but it still has the thickness of a high-quality product. There's no doubt about that because there are very few drips and runs while using this paint on any surface. And when painted over acrylic gels or mediums, you'll get even better performance from these paints as they won't crawl around your canvas at all.
The paints are capable of holding the right amount of detail, and it can handle a bit of texture from your brush. The handling is smooth but becomes sticky after a few minutes. But, when your work is dried up, the paint leaves a durable satin finish. It's not archival quality, but it keeps your work safe from cracks, chipping, and flaking. One gripe we have with this kit is how uneven it looks when it dries up, especially on unprepared surfaces.
In fact, it could be one of the best options out there for beginners who have just started to experiment with pouring techniques since Magicfly already included mixing instructions in their manual which should help new artists understand how much water should go into each color before blending them together properly to achieve certain colors.
Some colors might not be lightfast, but the ones that are will last for years under proper conditions.
Pros and Cons
Leaves a durable satin finish
Can work with any surface
Has bright and useful colors
Includes 30 bottles
Dries up unevenly
It might feel sticky after a few minutes
Final Thoughts
It has its share of compromises for the price you're paying. The paint's viscosity turns sticky very fast, and some parts might darken or lighten when drying. But, for the colors and the amount you're getting, we think it's more than enough to be a great learning tool for beginners.
Result
8
This paint set brings a wide color variety, and it's easy to use even with different surfaces. It brings excellent detail and a bit of texture, and when everything's done, this set brings a durable finish that can even withstand the outdoors.
5. Golden Artist Colors Heavy Body Acrylic Paint – Best Acrylic Paint for canvas
Unpacking and First Impressions
Our last acrylic set by Golden Artist Colors is also the best for canvas. Why? Its pigments and handling behave like the ones on oil paints, but it has the benefits of acrylic paint's drying times. It sort of brings the best of both worlds. Theoretically, this kit would be great for classic oil painting themes like portraits and scenery.
It's another one of the more expensive options currently available, but it has a great reputation with acrylic painters who are serious about their craft.
The first thing you'll notice when opening up your box is how professional everything looks. Each package comes in a small box containing only eight tubes. Those tubes are all screw-capped and contain 60ml of paint, which is only good to cover one or two artworks.
The eight colors included in this kit are:
Cadmium Yellow Light
Indian Yellow Hue
Cadmium Red Light
Alizarin Crimson Hue
Ultramarine Blue
Prussian Blue Hue
Viridian Green Hue
Titanium White
The color choice in this kit is a bit outdated, as some artists would call it, but I think it's great if you're trying to replicate a classic oil painting effect with your work. Since this only has a few colors to work with, the box includes a mixing guide to help you out a bit, especially if you're new to color mixing.
Performance
The paint is definitely on the thicker side, but it's still manageable for most brush strokes. It holds its form well, and there's very little dripping or spilling when applying it to your surface. The downside of this is that it takes a while longer to dry up completely even with a hair-dryer which can be quite frustrating if you're in a hurry.
But, once it dries, the finish is incredibly smooth with almost no bumps or ridges left behind. And finally, another big plus for this set is that there was practically zero odor emitted from any of the paints which is fantastic news for those with sensitive noses.
Since this kit has a few colors, let's take a look at the mixing performance. For multiple colors to mix well, it must have a good consistency. In this case, this kit is a bit light-bodied, and it has a creamy viscosity, allowing for a quick and satisfying mixing process.
If you ever find yourself where this paint is a bit too thick, you can always mix some water in the paint. And don't worry, since the only thing that would change is the viscosity, the colors will stay the same since this is very pigmented.
This paint's handling is smooth, but it might be slippery for some, especially if you watered it down. Straight out from the tube, the paint is excellent for fine details, but on the other hand, I find it challenging to get a ton of texture in.
If you're a pro, we recommend using varnish or a top coat when your work is finished. This has good fade resistance, but it's not rated for archival quality.
All in all, this is an incredibly high-quality set of paints that would be great for anyone looking to do some serious acrylic painting.
Pros and Cons
Classic color choice
Imitates the pigmentation of oil paints
Smooth to use and easy to mix
Good fade resistance
It only includes eight colors with 60ml each
Some may see the color choice as outdated
Not ideal for tons of texturing
Final Thoughts
This kit is not meant for everyone to use, mainly because of the color choice. It's a bit too outdated for most people but outstanding for artists replicating a classic oil painting effect. The paints perform well with detail and color mixing, and this would work well with some pro artists.
Result
7.8
This kit is excellent for what it's made for, bringing traditional oil colors on acrylic and doing it best for canvas. I'd only recommend this if you're exploring classic themes and if you want to practice color mixing.
Conclusion
There you have it! The best acrylic paints we found are waiting for the next artists. And for a quick reminder, before buying your first kit from this list, make sure to consider how skilled you are, how much budget you have, and what artwork you will do with these paints. That way, you'll prevent wasting money, time, and effort. Refer to our People also Ask and Buyer's Guide for more help with deciding on the best acrylic paint for you. Have fun!
People Also Ask
Are acrylic paints waterproof?
Acrylic paints have a water base, which makes acrylic a bit too friendly with water. Although when dried, acrylics are a bit water-resistant but remember that these are not fully waterproof. Even though it has water resistance, when acrylics are exposed to water or moisture for a very long time, water can seep into the acrylic and make it a bit manipulable again. And that may result in flaking and tearing.
Can acrylic paint be used on wood, metal, fabric, or plastic?
One of the wonders of acrylic is its versatility, and you can use it on wood, plastic, concrete, and canvas without getting any problems. This is because acrylics are much more viscous, and since it's water-based, it won't slide off surfaces as oil does. Acrylics also work with metal, glass, and fabric, but these surfaces might need preparation and a bit more drying time for the acrylic paint to adhere correctly.
Are acrylics better than oil?
This is a common debate nowadays. And the answer depends on you. Acrylics are only around for a relatively shorter time than oil, so you can say that acrylics still have a long way to go. But to get things straight, acrylics are easier to clean, it's non-toxic and much cheaper. At the same time, oil paints are much more trusted with bringing the best colors and lasting even centuries. For pros, of course, oil is more trusted than acrylic. And acrylics are best if you're a beginner or if you can't tolerate oil paint's toxicity. Still, in the end, it depends on you.
When will acrylic paint dry up?
While oil paints can stay wet for days, acrylic paints dry up in an hour or two, or if you're in a rush, you can find paints that can dry up after 15 minutes. While the fast drying time might be beneficial to other artists, there are also some disadvantages in the long run. For instance, since acrylics dry up fast, some parts of your work may already be dried before you even finish, which might lead to an uneven finish texture. And due to very fast drying times, the acrylic's colors might darken once it dries up, significantly affecting the paint's accuracy and reliability.
Will acrylic paint wash off?
Yes, acrylics are very easy to wash off. It's because acrylics are water-based so if some paint happened to dry on your hands, all you need to do is use some water, and you'll reactivate the acrylic allowing for an easy wash. Oil paints, on the other hand, need Mineral Spirits or Turpentine to wash off. And keep in mind that those cleaning agents can also be a bit toxic and pricey.
Are acrylic fumes harmful?
Unlike oil paints, acrylic paints do not release harmful chemicals when drying up, and in fact, almost every acrylic paint is non-toxic. Some acrylic paints have additives like thinner, cobalt, manganese, chromium, lead, and cadmium to improve the color, viscosity, and overall performance of the paint. Despite being non-toxic, I still recommend using acrylic paints in a ventilated area to make sure.