Copics are the creme de la creme of alcohol markers. They are known for their smooth blending capabilities and rich color in a huge variety of shades. In order to get the most out of your Copic markers, you need to use the right paper for your needs.
Using the correct paper is important for a number of reasons. The most important is that your markers won't perform to their best abilities if the paper isn't designed for use with them. This wastes your time and valuable ink.
Best Choice
X-Press It Blending Card
Best Paper for Copic Markers
This cardstock is excellent for use with Copics. If you create any commissioned works or like to draw on a sturdy paper that won't pill and protects your work, XPBC will be the perfect product for you.
Check Price
Low-quality papers will also bleed through, creating a permanent mess on the surface underneath the page and will use more ink than necessary. They can also dry the ink too quickly, which will limit your ability to blend them. Since this is the huge selling point on alcohol markers, this is a big deal.
Selecting Your Paper for Copic Markers
The type of paper you use with your Copic markers will help you get the most out of this amazing art supply. A cheap or poor quality paper will lead to bleed-through, feathering, and insufficient blending time, which can impact the quality of your work and your experience with these markers.
When shopping for marker paper, the following are a few things that you should consider.
Thickness and Durability
Cardstock is going to be your thickest and most durable paper for alcohol markers. Thinner papers simply can't stand up to the abuse that these papers can take. They are also great for displaying or selling your original artwork.
Thin paper is inexpensive and best for practice and sketching, but it isn't durable. When purchasing your paper, you need to decide which qualities are most important to you.
Size and Portability
How do you plan to use your paper? Do you like to sketch on-the-go or at your desk? Maybe you like to draw on the couch and just don't want a huge marker pad in the way. The size and portability of your paper matters because you need a paper that meets your needs.
Marker pads are available in a variety of sizes, making certain ones more suitable to specific uses. Decide the size of your final work or how you plan to use your paper before you purchase it to ensure that it meets your needs.
Quality
Acid-free and archival quality are attributes you should consider if you are creating art that you want to last. Both prevent the paper and ink from yellowing, fading, and aging and protect your work of art. If you plan on selling or displaying your art, this is an important consideration.
However, if you only want to practice or are a beginner that will go through a lot of paper, student quality is sufficient in most cases. Not only will it meet your needs, but it is also less expensive than higher quality papers meant for finished artwork.
Sheets Per Pad/Pack
It's important to know exactly what you are getting when you purchase marker paper. Bristol paper and cardstock are thick, meaning that you may only get 10 or 12 sheets per pad. This compares with some marker pads containing thinner paper that have 50 or more pages per pad.
For practice, go with a marker pad with lots of bleed-proof pages, but for finished works, cardstock is a much better option.
Best Copic Papers on the Market
Below, we will take a look at five of the best marker papers for Copics, review, and compare them so that you can decide which will work best for you. If you are new to Copics or have been using them for years, you will be sure to find a paper to suit your needs.
1. X-Press It Blending Card − Best Paper for Copic Markers
If you enjoy drawing with markers on thick, sturdy cardstock, X-Press It Blending Cards might be a great choice for you. These cards are a thick and sturdy 250gsm paper, which means that you will be working on a substantial canvas.
Although these pages are super thick, they are compatible with most inkjet and laser printers, meaning that if you want to print an outline, digital drawing, or download and print a coloring page, you can do so with ease using this paper.
Unpacking and First Impressions
This cardstock is heavy, smooth, and a nice bright white that will make your marker colors really pop. It comes in packages of 25 or 125 that are wrapped in cellophane. Each page is loose, which is really nice if you plan on using it with a printer.
The pages are thick and sturdy and promise not to pill while blending, which is nice if you plan on doing a lot of blending while the paper is saturated in ink. They are the size of a standard printer page, 8-1/2″ by 11″ which will make them easy to store in a standard size portfolio or protective sleeve once your ink is dry.
The paper has a nice smooth coating on one side so if you are familiar with other X-Press It Blends papers then this should come as no surprise. The backside of the card is uncoated and can be written on which makes this not just Copic marker friendly but also fountain pen friendly too. The paper has a good weight to it while still being easy enough to curl when applying heavy pressure.
This paper is incredibly smooth and soft and has absolutely no texture. It's almost like a glossy and very satin finish.
Performance
Most cardstock sucks up your ink, meaning you will have to refill or replace your Copics more often. However, this pad has high surface saturation, which will save you ink and make it easier for you to blend your artwork. The color lays down smoothly and the markers blend well together.
The paper is very smooth and of archival quality, which makes it perfect for commission pieces or artwork you plan to frame, display, or show. There is also no feathering, which is a huge bonus. No more worries about the ink bleeding beyond the outline with this product. The ink doesn't bleed out from where the marker tip touches the paper, which means you can get really, really fine lines with the Copic brush tips.
This paper has similarities to render paper, which is another marker-specific type of paper. When you first lay down the color, it looks a bit darker and more de-saturated. So keep in mind that the color may look more vibrant as it dries. The ink doesn't bleed out from where the marker tip touches the paper, which means you can get really, really fine lines with the Copic brush tips.
Some of the cool grays and blues do have a tendency to be blotchy or not fully saturate the pulp in the paper, but this is not a deal-breaker, just something to note. Also, the coating in the paper may build up on the tip of other marker brands.
Pros and Cons
Archival-quality
Doesn't pill when blending
Ink won't feather
High surface saturation
Cooler colors not a smooth
Some printers may have issues printing on it
Final Thoughts
This cardstock is great for use with Copics, but people who use it with other alcohol markers don't have the same consistent results. This cardstock is also more expensive than other marker papers, but that is to be expected with archival and professional quality products.
Result
8.3
If you create any commissioned works or just like to draw on a sturdy paper that won't pill and protects your work, this may be the perfect product for you.
2. Strathmore 300 Series Bristol Smooth Pad − Best Paper for Alcohol Markers
The Strathmore 300 Series Bristol paper is a student-grade paper designed for final renderings. It has a smooth texture that is suitable for pens, markers, and colored pencils, making it more of a multimedia paper than others on this list.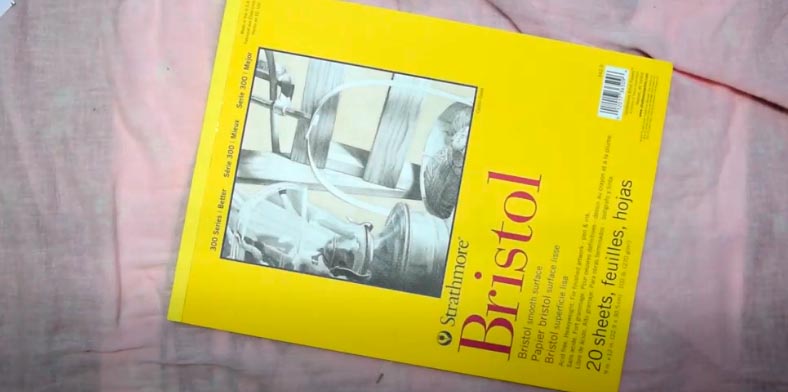 That being said, this paper has its place and is great for new artists that need the sturdiness of cardstock, but don't want to spend a fortune on professional quality paper. It would be a great beginner pad for multimedia artists or those wanting to experiment with Copics.
Unpacking and First Impressions
This paper pad is a thick 270 gsm cardstock that is bound by glue which makes it easy to remove from the pad without tearing the page. The cover doesn't fold back easily to allow you to use the pad, which could be problematic if you want to travel with it and don't want to bend the protective cover or have it in the way.
The first thing you'll notice about this paper is the weight…it's heavy! The texture of the surface is very smooth and if you are just starting out with markers or looking for something that won't absorb your ink, this may be right up your alley.
The pages are thick, sturdy, and smooth, which is great for marker use. It also has a sturdy backboard, which will make it easy to use when you don't have a desk or surface available.
Performance
A lot of Copic artists love this paper because the blends are smooth and the colors are rich. There is some minor bleeding with the skin tones in this pad of paper, but not nearly as bad as other budget marker pads we've tried. Also, there is no feathering when laying down flat lines or dots.
However, there are a couple of issues that you may wish to consider. Although thick, this paper doesn't seem to have a protective coating to prevent bleed-through, which could be an issue if you plan on making multiple passes.
Another problem is that this paper can really soak up the ink, meaning you are using more ink than necessary to get the results you want. It's not really unexpected for a student grade paper, though. Overall, the value and quality are very good.
Pros and Cons
Thick and smooth surface
Works great for multimedia
Smooth, even, rich color and blends
Uses more ink
Bleeds through some
Final Thoughts
If you use your Copics with other media, this could be a good choice for you. There is no waxy build-up on your pens or markers and the colors and blends are vibrant. It is also not as expensive as professional artist quality paper, a bonus for new artists.
This is a good paper for drafting your final artwork. It is thick, sturdy, and acid-free, so your art won't fade or yellow over time.
Result
7.5
Best for experimenting with multimedia projects and not having to worry about the texture of pens affecting underlying pages.
3. RENDR Hardbound Sketchbook − Best Sketchbook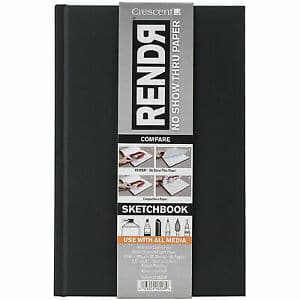 Drawing with alcohol markers in a sketchbook is usually an on-go. Often, your markers will bleed through several pages and it really soaks up your ink. Sketchbooks also don't often stand up to markers, pilling any time you wish to blend. The Rendr sketchbook is the exception. This is a revolutionary product for marker artists and works well for other media as well.
Unpacking and First Impressions
The Rendr Sketchbook by Crescent Creative has heavy 170 gsm sheets that are super resistant to bleed-through, meaning that you can use alcohol-based inks on them and still use both sides. This is a great book for marker artists because it has a thick paper that performs well with pencils and markers. The pages are acid-free and heavyweight, which means you won't have to worry about your art yellowing or fading over time.
The Rendr Sketchbook is heavy and sturdy. The pages are smooth and thick and the binding is very strong and durable. This is not a sketchbook that is meant for tearing out pages and will ensure you never lose a drawing if you drop the book and stretch the binding.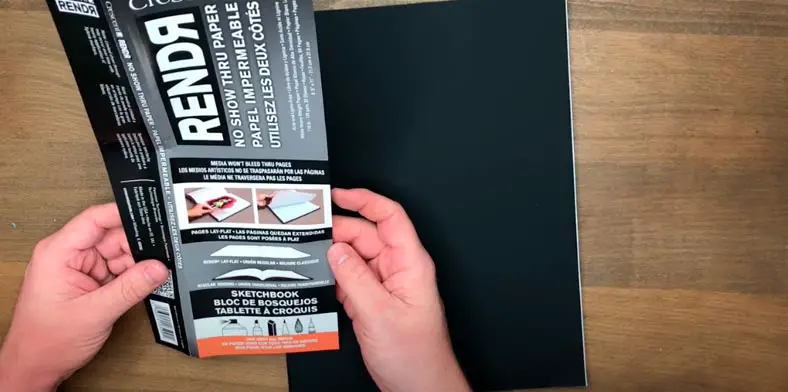 The pages aren't a true white, more of a soft light gray, which may impact the brightness of your markers. However, since this is a sketchbook and not intended for permanent works of art or display, this shouldn't be a problem for most people.
Performance
First, it's important to point out that this sketchbook doesn't lie flat at all. You may need to use binder clips to keep the pages open. This isn't necessarily a problem as it is a sketchbook with which you may travel. Many times you may not have a flat surface to work on while you're on the go.
The good news is that the hardcover is sturdy and resists damage from being dropped or falling. The pages are definitely bound securely, meaning that, unlike some sketchbooks, the sheets aren't likely to come loose. However, if you do want to remove a page, it will need to be cut out. Don't try to tear these pages out.
Marker inks don't bleed through on this paper. You can use both sides of the 48 sheets of paper, meaning that you could have as many as 96 finished drawings in this sketchbook, all containing alcohol ink.
There is very little absorption by the paper that may cause some smudging on this paper if you are used to white or newsprint sketchbooks.
The paper is pretty smooth because it has no tooth at all. Drawing on this paper is basically like drawing on plastic, which has its downsides too. Alcohol markers don't smudge once dried, but any sort of fine liner or black pen can smudge.
Gel pens do dry, but you can still move them around because they just sit on top of the page. Fine liners and felt tip pens do dry but they will rip up the paper. Coloring alcohol markers seem to work fine. They do dry and don't go through the page. But if you layer a bunch of alcohol markers on top of each other, the ink may wipe away.
Pros and Cons
Great for travel
Can use both sides of the paper
Tough paper and binding is durable
Can't remove pages easily
Pages are not pure white
Final Thoughts
This sketchbook is portable and functional. Your artwork won't stand out as a final project on the paper because the paper isn't intended for it.
It is roughly A5 size, meaning it is small enough to carry with you and may fit in a crossbody bag, laptop bag, or carry-on, making it perfect for travel.
Result
7.3
The sketchbook is intended to prevent bleed-through and allow you to express yourself through your artwork however you wish. That's exactly what it does.
4. Canson Artist Series Pro Layout Marker Pad − Best Semi-Translucent Pad
A translucent pad can be really useful if you wish to work over a perspective grid, existing drawing, or any kind of guide. This paper is perfect for that type of use thanks to its semi-transparency.
If you like to draw on less expensive paper and trace your drawing onto marker paper, but you don't own a lightbox or light pad, this is a great option for you. All you need is fair lighting and you can easily trace your work and transfer it onto this bleed-proof marker paper.
Unpacking and First Impressions
This marker pad made by Canson is great because it combines a variety of mediums to create a paper that has a semi-translucent feel. It's also resistant to bleed-through and allows for good blending effects with alcohol markers.
This pad has a nice sturdy backboard and the cover folds completely over and behind the pad, meaning it is out of the way, but will protect your artwork between uses. The paper is thin, only 70gsm, but don't let this fool you. Each sheet has a coated backside that prevents bleed-through.
This paper should fit through an inkjet printer, but be sure you know which side is the front and back and how to properly load it. You probably won't get the print job or marker performance you desire if you insert your paper the wrong way into your printer.
There is an odor when you open this pad, but it isn't noticeable after the first few minutes once you start drawing.
Performance
This marker pad is smooth and offers a nice, luxuriously soft surface on which to draw even with your least expensive pens and pencils. The surface may be slippery but not so much that you'll lose control over your pen, pencil, or markers.
The thin sheets don't require a lot of ink to saturate and there's no feathering, which is perfect if you like to outline with a fineliner, then color in your drawing with alcohol markers. Colors go on smooth but may take a little longer to dry than some papers. This means that there is more blendability with Copics and other alcohol-based markers.
The sheets are a little hard to tear out from the sturdy binding, which could be problematic for some people or if you wish to use them with a printer. There's a good chance your pages will stick together and tear in the process (so watch out). They rip really easily especially when they are new because of how slick they are. If printing out an image on your paper is important to you, this is something you should consider.
Pros and Cons
Great for tracing
Perfect for using a perspective grid
No bleed-through
Not archival quality
Very thin
Final Thoughts
This is a great paper on which to practice with your Copics without the worry of using too much ink or having bleed-through. The paper is great for blending and doesn't pill, bleed, or feather.
Another advantage of this pad is that you can easily flip the top over and get it out of the way. This is great if you are working in a small area or in your lap and don't have room for the flap to lay out flat.
Result
6.8
This isn't a paper that you would like to use for commissions or final art projects you wish to display, but it is great for practice. You can experiment and have fun with your Copics without any problem.
5. Winsor & Newton Bleedproof Marker Paper Pad − Best Bleedproof MarkerPad
The Winsor & Newton Bleedproof Marker Paper Pad is designed for use with Winsor & Newton ProMarkers, another high-end alcohol marker. Although not designed for the Copics, it works well with other alcohol markers, so many people use it with Copic Markers.
This paper comes in a pad with a glued binding that is easy to tear off. It is a thin, treated paper that is 75gsm, much like the Canson paper on this list. Unlike Canson, it is not considered "transparent." This means that it is about the thickness and opacity of printer paper.
Unpacking and First Impressions
The cover is padded, but will still protect your work when you close it or store it in your bag. The paper is also smooth and bright white, making it a great paper for your markers to really pop.
If you are used to cardstock or bristol paper, this paper is going to feel flimsy and thin to you, but don't allow that to dissuade you. Although thin, it is specially treated to prevent bleed-through. It is also great for use with an inkjet printer, much like the Canson paper.
You can trace through this paper, but you will need a lightbox or lightpad to do so without eye strain. This isn't normally a dealbreaker, but something worth noting.
Performance
Winsor & Newton marker paper isn't going to bleed through and feels great under any kind of pen or pencil. The sheets are smooth without being slippery so they don't move around much while you're drawing or writing on them. It makes tracing far easier and you won't need to worry about the marker paper moving around under your hand.
There is no feathering or show-through, but depending on how much ink and pigment you use, there may be a little bleeding. Your markers will go on smoothly and look great since they are absorbed by the paper instead of just pressing down on top of the surface.
This paper is very similar to the Canson paper, but it is not transparent. One of the ways the two differ is that this particular paper dries more quickly. That means that if you want your colors to be rich and smooth, you need to take your time with inking. If you fail to do so, your artwork may be streaky or blotchy.
In addition, the faster dry time also means that if you want to blend your markers, especially dark colors, you should work in small areas and work quickly. The first color can dry down if you don't do this and will require an additional application to blend well.
As long as you don't overlap and allow your first layer of ink to fully dry, this paper will not bleed through. However, that is not true if you are doing a lot of blending and need your layers wet. The ink can bleed through if you push this paper too much. This is something to consider since you will need to do this in order to blend your colors well.
The colors of Copics tend to be a bit lighter on this paper, but the tones are smooth and blend well. You can perform a test swatch on this paper if you have concerns about how certain colors will perform. For the price, it is worth trying to see if this particular paper works well for you.
Pros and Cons
Bleedproof paper
Compatible with inkjet printers
Opaque and bright white
Layering can be tricky
Ink dries quickly
Final Thoughts
We recommend this paper pad because of how smooth it is while still being able to handle different types of markers without any show-through or bleeding. It also has a pleasant soft texture instead of being slippery, which is great if you're using it with pencils or pens for writing.
Result
7.3
The Winsor & Newton Bleedproof Paper is decent quality for the price and great for any time you want to practice with your Copics. It is more opaque than other marker papers, which may matter to some as this is a personal preference.
Choosing the Right Marker Paper
When it comes down to the bottom line, it's important that you choose the marker paper that works best for you. Reviews don't matter if the paper doesn't meet your needs as an artist.
Take some time and write down some of the things you would like to do with your markers. This should give you an idea of the type of paper you should purchase. Many artists purchase multiple types of paper to fit their needs at the time, so don't feel like you need to be locked down to one paper.
Whether you are a beginner on a budget or a professional trying to sell your artwork, you will find a paper on this list that meets your needs. Don't be afraid to experiment, and don't give up if the first paper you pick up doesn't work for you. You will find your personal preferences with a little experience.