Pencils are a medium that we all know and love. These sticks can quickly transform your idea into an artwork without any complicated preparations and processes. Pencils have been around since 1795, and we have pushed through tons of innovation to make the modern pencil. You can now easily find tons of pencil varieties from graphite, charcoal, watercolor, and colored pencils.
Best Choice
Strathmore 500 Series Heavyweight Mixed Media Pad
Best Paper for Colored Pencils
This pad excels in everything a paper can do. We can't find many disadvantages of using this besides being overkill for some applications. It can grab on colored pencil pigments well but still being precise, and it brings all the features that a professional artist might want and need.
Check Price
Selecting your Paper for Colored Pencils
Strange and uncommon terminologies are inevitably used to convey each paper's qualities and performance easier. Here are some of the terms I used throughout the article.
Size
This term is self-explanatory, but it's essential to know that different paper sizes might cost significantly more expensive or cheaper. Another critical aspect affected by size is your paper's useable space. It's vital to get the larger sizes if you're going to draw in more details. Sizes might also be in different units. The main units used for paper are centimeters and inches. We've used inches as the primary unit in this article.
Paperweight (GSM)
Paperweight might also be listed in different units. The most commonly used is GSM, which might also appear as g or g/m2. Pound or lb is also used to describe paperweight. Paperweight represents how heavy the paper's body is; this determines if it can stand wet mediums or if it's thick or not. It's ideal to use papers that are at least 160GSM for the best performance.
Grade
Now, don't be intimidated if you see the term grade in our reviews. It simply refers to a suggestion if a material is compatible with your skills, also known as a grade. Grades range from beginner or student, all the way up to experienced artists or professionals.
Quality
All paper and materials will degrade over time and might affect the artwork by shifting or fading colors. But, do you want your artwork to stay the same even after decades? If you do, perhaps you're doing art for clients as a professional, then you might want archival quality paper, which prevents chemical and physical reactions to your artwork for decades. Acid-free quality is also good but a step down below archival quality. Best prevent using acidic paper unless you're using it for scratch and random sketches.
Texture
The texture is generally the roughness or grittiness of the paper. Another thing to remember that's connected to texture is the tooth, which is the number of grooves and pores that a paper has. Finding the ideal texture for colored pencils is a bit tricky, as some pencils have soft tips that only need a bit of tooth and texture, while graphite and charcoal pencils might need more tooth and texture. For the best results for colored pencils, we recommend getting a paper with a smooth texture but a lot of teeth.
Form Factor
Form factor mainly describes how the pack of paper is bound together. Card stocks come in a plastic pouch, while others might come as glue bounds, wire-bound, and fold-overs. For the smoothest experience, use card stocks for finished artwork. At the same time, you can use wire bounds and fold-overs for portable use. Glue stocks will work great for both.
Best Paper for Colored Pencils
There are tons of pencil types, and each type of pencil will perform its best on a specific surface. For today we're taking a look at the best papers that you can use for your color pencil artwork. Contrary to popular belief, colored pencils are not the same as the graphite pencils used by everyone, as they are commonly made with an oil or wax base combined with pigments and other additives. To get the best results, you might need to use papers such as those we will mention.
1. Strathmore 500 Series Heavyweight Mixed Media Pad – Best Drawing Paper for Colored Pencils
Unpacking and First Impressions
This Strathmore pad is the best for professional artists. And our overall best choice in this list, and there's a lot of reason why. For the first look, this paper comes in a glue-bound pad for smooth and clean tearing. Another great thing straight from the label is the fact that it's archival quality. Both features are beneficial for pros working for clients.
This heavyweight pad contains 12 sheets of 100% cotton paper. You will be surprised by how super thick the pads are; they feel really durable. You can tell that Strathmore paid attention to every little detail when making this pad, from the beautiful white cover with a gloss finish to the crisp and wavy texture on each sheet. They're going to last a long time too due to their weight and thickness!
With a heavy 3-ply all-cotton surface, it's no wonder that this paper comes at 570GSM or 350lb. That means you can also use more media other than colored pencils. You can also use oil pastels, watercolor, acrylics, and more. For the size, this pad does come in three sizes, which are:
The paper is soft with vellum finish to the touch and slightly flexible, not something that some artists might expect with a paper as heavy as this. But will these features be beneficial for actual work? Let's move on to the actual performance.
Performance
Color pencils need a bit of tooth and texture to bring the best colors and shades. This paper is a bit soft to the touch, but it is toothy and has a fine texture. And the amount of tooth is perfect for a detailed colored pencil artwork. It's also not grabby; instead, you can draw smoothly and with confidence on its surface.
How does heavyweight paper benefit color pencil art? Pencils have techniques that can be too aggressive to the surface, such as burnishing, rubbing, oiling, and even scraping. And this Strathmore pad can stand up to those techniques. It also takes the wet media very well with no sign of warping.
One thing we enjoyed about this product was the fact that there's no tearing or ripping involved when using sharpened colored pencils on it. In addition to amazingly smooth results, users shouldn't worry at all about damaging their artwork with this heavy-duty Strathmore 500 Series Mixed Media Pad.
The smooth yet slightly textured paper feels amazing to work on, especially when you're going over pencil marks a couple of times. If your pencils have waxy leads, you can rest assured that they won't melt through the paper! Of course, the results you get also depend on the pigments in your colored media.
The toothy yet smooth surface also makes small details easier to draw and makes your illustrations more defined, and it also makes drawing a bit more precise and more straightforward.
Due to its size and weight, this pad is perfect for professional artists who want long-term results that last and don't damage easily. The price may be a bit steep at first glance, but you'll get what you pay for here!
With all that, will this work with everyone despite being the best for pro artists? This paper brings properties that make your work easier to manage as long as you get used to it, so yes, it can work with everyone. I would recommend using something more economical and practice-friendly if you've just started with art.
Pros and Cons
Soft but toothy surface
Durable and sturdy, yet flexible
Archival Quality
Glue bound pad allows clean tearing
Great for fine and detailed art
Might be intimidating for beginners
Final Thoughts
This pad checks every box on the best paper for a colored pencil checklist, it's heavyweight and durable, can work with different mediums, and you can get a lot of detail into its surface. And for pros, this can tear cleanly away from the glue-bound spine for easy transfer, and clients can have your work on it for a very long time since this is archival quality. Give it a try on your next masterpiece!
Result
9.5
This paper's specialty is mixed media applications, but if you consider using colored pencils alone, this might perform even better. It's also great for fine arts and preserving your artworks for a long time, making it the best for professionals.
2. Canson XL Series Bristol Pad – Best Paper for Coloured Pencils for Beginners
Unpacking and First Impressions
In contrast to the first pad on this list, this will be great for beginners and general sketching and practice. The Canson XL Bristol Pad is specially made for pencils, markers, colored pencils, and ink. Each pack comes with 25 sheets, and each sheet is a 260GSM or 100lb paperweight. And this pad is available in several size options, which are:
7″ x10″
9″ x12″
11″ x14″
11″ x17″
14″ x17″
19x" 24″
This pad comes in a fold-over sketchbook format, and with that, you can't entirely tear pages away as comfortably and as clean as glue-bound pads.
The paper itself feels very smooth to the touch, and it's more on the less toothy side, which is not too ideal for specific brands of colored pencils, but you might learn a thing or two with surfaces like these. This Canson XL Bristol paper has great properties that will make drawing easier for beginners who want to press harder on their pencils. It gives good feedback when you draw on it, but not annoyingly rough.
Performance
Now, this paper has a very smooth surface and has fewer teeth. How does that translate into colored pencil artwork? This paper will have less capacity for a darker pencil shade, and it will not have much capacity for layering. So, yes, it's not too great for finished artworks and specific techniques.
On the other hand, this paper will perform exceptionally well for practice and learning. It allows you to use it even with limited drawing experience because of its forgiving surface, but it's still sturdy enough not to collapse when holding heavier pencils.
The smooth surface will let you erase colored pencils easily, and without a trace, you can get detailed and more precise with the smooth surface with a minuscule amount of tooth as mediums will glide without much resistance. This paper has a 260GSM weight, which is more than generous for pencils. This means you can easily do an aggressive rubbing, erasing, and you can even use different media to work with your colored pencils. This paper won't react badly to those.
Once you get used to its properties, everything starts coming together for a smooth and pleasant drawing session. It also works well with mixed media, so if you're looking for something that can be used in different mediums, this might be the best pick!
When you finished your artwork on this pad, you better protect it with something. As you might know, pencils can be smudged or erased easily even with just a finger, especially on smooth surfaces where the graphite or pigment might not have something to grab on to.
Pros and Cons
Great for beginners
Eraser friendly
Colored pencils draw precisely
Not suitable for layering
Not the best for finished artworks
Final Thoughts
This paper is perfect for markers and pens, but it's not the best for pencils. But, if you're a beginner, this is one of the best papers you can get, especially with its price per page, and this is still pretty versatile. So, we recommend this to people exploring new mediums, especially beginners on colored pencils, as this paper might bring the right learning path for you.
Result
8.8
This paper has good versatility for different mediums, and it's the best one for beginners as it's friendly towards erasers and has a low learning curve to overcome. And a pad like these might make you learn about different papers and the various effects they bring to your artwork.
3. Legion Stonehenge Multicolor Pad – Best Toned Paper
Unpacking and First Impressions
Legion made tons of colored and toned papers before, and tons of artists loved it. They even released a sample kit recently, allowing artists to explore options. A toned paper might not be the most popular choice for everyone, but if you're looking for one to use colored pencils, then the Legion Stonehenge Multi-Color Pad might be for you.
This paper comes in a glue-bound pad format, and it comes with 15 sheets. Unfortunately, it only comes in 11″ x14″, which may be too large for some people. Each pack comes with 15 sheets, which consists of 3 sheets each of 5 paper tones. Those tones are:
Natural
Fawn
Cream
Pearl Grey
Warm White
Now the colors aren't too crazy. You might even have a hard time distinguishing one tone from another, but the tone is there, and it might bring a unique vibe that you can't replicate with a flat white tone. Since this is 100% cotton, each sheet is soft to the touch, yet it has a significant toothy surface. This pad is suitable for professional work, but only to an extent since this is only acid-free, not archival quality.
With the 250GSM weight of each sheet, you can expect it to be really durable. However, this paper is not as smooth as most papers with this weight. The Legion Stonehenge Multicolor Pad gives your works more character and quality, making your artwork stand out from other similar pieces. It has a great tonal range that you can explore with your artwork.
Performance
Some colored and toned papers are tricky to work with since some colored papers are not colored all the way through, resulting in halos and fading colors. This multicolor pad is toned through, and it doesn't fade with wet mediums like alcohol markers and oil. This toned paper performs perfectly with colored pencils. It grabs pigments and graphite very well, and it can also handle tons of layering.
The medium doesn't feel like it will blur as much as you might fear from a paper with this kind of texture. You also have fewer chances of colored pencils totally smudging away when using this product. You can draw detailed lines without worrying about intensity levels since the toothiness helps diffuse the pigment well enough even it's quite heavy-handed.
Since this weighs 250GSM, it's too thick enough to withstand aggressive rubbing, blending, and erasing. It can hold several layers without any problem due to its weight, but if you layer up too much, expect some resistance from the paper when you erase something. Since this has a generous amount of tooth, erasing may be challenging, and the surface might lose the tooth if you're eager to erase something.
This can handle a bit of precise and detailed illustrations due to the toothy and soft cotton surface. In terms of grade, this pad is friendly for both artists and beginners. It's an excellent choice for beginners to try their first artwork on toned paper, while artists can take full advantage of all the paper's qualities. With the right technique, you can expect this paper to be really versatile for all kinds of mediums.
Pros and Cons
100% Cotton
Toothy yet soft
Pleasant paper tones
Can work with wet and dry media
Glue bound but doesn't tear cleanly
Not Archival Quality
Final Thoughts
Exploring toned papers is fun as it is an essential skill to practice. It will challenge your skills to adapt to different paper colors. And it'll make you seek and experiment with colors that will work and complement your paper tone. This paper also works with other mediums, so colored pencils aren't your only option with this pad.
Result
8.3
This paper performs surprisingly well for colored pencils and other media. It handles detail well, and it is sufficiently durable for pencils. On the other hand, its non-archival quality may be a deal-breaker for professional artists using colored pencils since those have a reputation for fading on most surfaces.
4. Strathmore 400 Series Colored Pencil Pad – Best for Prismacolor Colored Pencils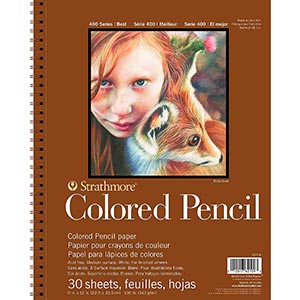 Unpacking and First Impressions
Strathmore has a grading system integrated with how they name their line of products. They have the Series 100 for Youth, 200 is Good, 300 is Better, 400 is Best, and 500 is Premium. The one we're looking at is part of the 400 Series, which means this paper is designed to be used and taken advantage of by experienced artists as it has the best properties among other Strathmore pads.
This includes 30 sheets of paper, which are wire bound, and this also has perforations so you can make a clean and quick tear. Each paper is a bit thin and light at only 163GSM. On the bright side, right from the first touch, you can feel that the surface is toothy and evenly textured, yet smooth. This pad only comes in 9″ x12″, a size that could work with everyone.
You'll also see that this paper is acid-free to guarantee long-lasting results. The colors don't fade and the paper itself will not deteriorate over time with continuous use. It's top-notch in terms of archival quality as well!
The only downside is that these pads weigh less than 200GSM, but it should be fine if you use light to medium pressure when drawing.
Performance
As our list say, this paper is best for Prismacolor Colored Pencils. They work best on this paper due to the wax consistency. They glide right over the paper without snagging or grabbing as other cheaper colored pencils do. Although it is not made specifically for Prismacolor, most colors blend really well on it.
Those pencils are one of the best and most trusted in the current market. As a professional tool, it longs for quality surfaces to bring out its full performance. This paper might do that for your Prismacolor pencils. For instance, this has even texture with medium tooth on this paper, which works perfectly with Prismacolor's pencils, as those pencils tend to have softer tips. Too textured and those soft tips will disintegrate in no time, and a surface too smooth will not give you satisfactory results.
This pad's off-white tone works well as a complement to any colored pencils. The paper's tone also serves as an excellent base for a realistic portrait as you can get more natural-looking skin tones. This paper has 163GSM, which is slightly on the light side, but everyone understands that this is specifically made for colored pencils only.
The wire-bound format is useful for portable sketching, but we recommend protecting your work by putting protective sheets between each page. When your artwork is done with this paper, each sheet's perforated edge proved to be convenient.
Pros and Cons
Great for Prismacolor Pencils
Complements colors from pencils well
Suitable for mastering colored pencils
Good value per page
Might be too thin for aggressive techniques and other media
Final Thoughts
This paper is more suited for experienced artists. It can take a lot of detail with the right pencils. It can also take burnishing pretty well, don't use other media such as watercolors as you'll only get a buckled mess.
Result
8.3
Exceptional surface to work with color pencils, especially Prismacolor's pencils. It has a distinct effect on your colors with its off white tone. Give it a try if you're mastering your skills on colored pencils.
5. Colore Sketch Pad – Best Value
Unpacking and First Impressions
This last pad may not be the best for every artist, but it's the best for testing out random ideas. This has 100 sheets each pad, and you can get two pads for under $20. However, a low price means that the quality might have some compromise, which is true. The paper used on this pad only weighs 89GSM, which is barely enough to take some hard rubbing. On the other hand, this pad hasn't got many teeth, which means that you can erase stuff easily.
Each pad comes with a 9″ x12″ size and comes as a wire-bound, much like the Strathmore 400 Series format. Right from the first touch, we wouldn't recommend this paper for finished artworks, whether you're a beginner or the most experienced artist ever.
If you wanted to get this for journaling or any project, the pages are perforated so they can be easily removed without compromising your work. It's best for random sketches and drafts.
Performance
The first thing you'll notice from this paper is its thin body, and the pad itself is lightweight. This paper's surface is smooth and has a little tooth, which means you can't layer much. You also won't be able to shade the colored pencils into darker colors. And if you try to rub hard, this paper might crumple to your fingertips. And as you might expect with thin paper, you can't use watercolors and any other wet media on this.
Despite the negatives, we do like some features of this paper, first is how sturdy it is, as this can't tear or rip quickly. You can easily create very detailed illustrations on this pad with high-quality pencils without being too cautious about the detail. With those gentle textures, the only thing you have to be cautious about would be aggressive strokes as you might leave some dents on the surface.
It's ideal for practicing techniques with gentle textures such as graphite, charcoal, or pastel. It also works well with pencils and pens so you'll feel like it's never enough!
The sketchbook format is also a considerable advantage over other pads, as you can quickly bring this everywhere. Since there are 100 pages on each pad, I wouldn't worry about saving this paper for select works.
Pros and Cons
Lightweight and easy to bring everywhere
Can take precise and detailed sketches
Has 100 sheets in each pad
Too thin for aggressive techniques
Will buckle after too much rubbing or erasing
Hard strokes will dent on other pages
Final Thoughts
Yes, this is not precisely the best paper you can get. But, it has 100 sheets available for an affordable price. This will perform its best only for practice, random sketches, and even notes. And the best thing we found with this pad is how sturdy each sheet is, it may buckle and warp easily, but it won't tear so fast. We recommend giving this a try for everyone as their everyday carry or for scrap paper used for testing different mediums.
Result
7.8
This pad is not the best on this list, but it's the best for practice and value per page. It's also sufficiently sturdy and handles precise illustrations, and it's large at 9" x12". You wouldn't be at a loss with this pad for the money you're paying, but don't expect finished artworks to look good on this.
Conclusion
Paper is just as important as the medium you use, but yes, it's tricky to get the holy combination that will work for everybody. So, please try to experiment with different papers, mediums, and techniques, and you might get the best artist out of you. Learn to visualize your ideas and transfer them to the best surface possible. And always enjoy using the tools you have on the best papers.