Watercolor — one of the oldest media in the history of art — is also one of the oldest painting methods in the entire world. Due to its simplicity and fool-proof painting techniques, it's not surprising how it's become one of the most popular painting methods today. It's also one of the most versatile and flexible mediums.
Because of its popularity, watercolor has gained a lot of supporters — artists — who use the medium for their pieces.
Below, we're showcasing the works of several watercolorists who are dedicated to this technique. Many stick to the traditional forms of art while others dare and experiment with different genres.
All in all, however, they exhibit fantastic results that make for the most amazing modern watercolor paintings!
Sara Khan – Most Famous Watercolor Artist
Sara Khan is a Canada-based Pakistani-born watercolorist whose works are famous for their vibrant and playful themes. She surprises her audiences with unique and uncommon combinations, creating whimsical landscapes for everyone to see.
The painting you see above is one she made depicting the message of being careful and conscious of the things we say.
If you're looking for examples that will help you understand negative space, Sara Khan's work is a great place to start.
Ding Shao Quang
Ding Shao Quang (a.k.a.Ting Shao Kuang) was one of the most accomplished and successful painters of the Yunnan art school style.
The Yunnan art school style was developed in the early 1980s and features themes of ethnic minorities, cultures, and customs, including many mother-and-child themes.
This type of painting is done in watercolor, gouache, or oil; with the use of heavy paint and bright colors in semi-abstract forms.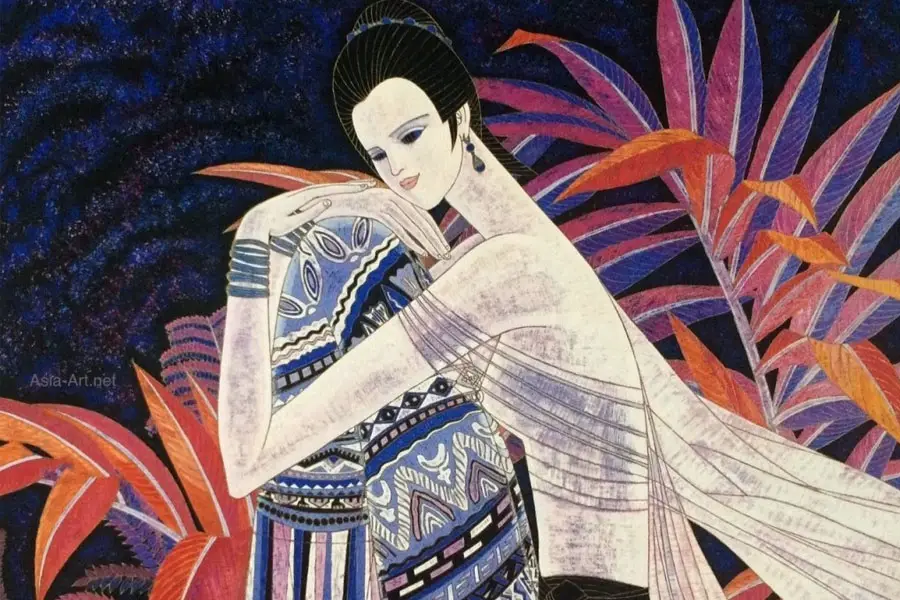 The piece you see above is called "Peaceful Garden," created by Ding Shao Quang using watercolor. He has other works, such as "Mother and Child" which he created in 1986, wherein he uses oil paints as his medium.
Joseph Mallord William Turner
Also known as JMW Turner, was an English watercolorist who left behind more than 2000 watercolors after he passed. Some might know him for his light-filled Romantic paintings of sea- and landscapes.
He's also particularly fond of swirling.
He was a famous artist in his own time, however, he's also considered one of the greatest British painters and has inspired generations of later artists.
The piece you see above was created by JMW in 1840 and is called the "Slave Ship." It was inspired by a book the artist read called "The History of Abolition of Slave Trade" by Thomas Clarkson.
Justin Margitich
Justin Margitich is an American painter famous for creating abstract paintings by mixing watercolor and acrylic mediums.
Justin uses acrylic paint to straight edges in his artwork and pairs that with the fluid nature of watercolors.
These two contrasting mediums create dimension and depth in his work.
Looking at his painting is a great place to start if you're trying to get a better understanding of watercolor or acrylic mediums.
Tojiro Oshita
Tojiro Oshita was a Japanese watercolorist whose works paved the way for the artform to prosper in the country. He was a man of many talents and worked as a writer, editor, presenter, and designer. His many experiences influenced a lot of his works as a painter.
Today, he is often referred to as the father of Japanese watercolor painting.
His 1901 publication called "Suisaiga no Shiori" ("A Guidebook to Watercolor Painting") is a seminal influence on young artists. He also has an art magazine called "Midue," launched in 1905, and still published today.
Aitch
Now based in Lisbon, Portugal, Aitch is a Romanian artist from Bucharest. Her style is inspired by her everyday experiences traveling and living in different parts of the world. The things that inspire her most are legends and folklore from different cultures, naive art, naturalistic illustrations, and much more.
Currently, she works for several companies, such as Chobani and PAI Skincare, as an illustrator.
Her paintings are playful, full of color, and are a great way to study repeated colors and patterns.
Jaakko Mattila
Jaakko Antti Mattila is a Finnish abstract painter. Born in 1976, he graduated from The Surrey Institute of Art & Design University College in 2001. Since finishing his degree, his art has been displayed in various locations, including Finland, the United Kingdom, Italy, and France.
Mattila is interested in the fundamental elements that create our sense, or illusion, of the world that surrounds us. He curates pieces that glow and vibrate — oftentimes to an unsettling degree.
His biggest inspiration is nature, but he's also interested in the constructive principles of the universe, like infinity, smallness, greatness, and time.
Get a glimpse of his process in this video.
Claire Cowie
Claire Cowie is one of the most accomplished American watercolorists of today. When you go to her website, you'll see a myriad of techniques and media she's used in her works. One of her most famous pieces, "Passages" which she painted in 2016, is a great example of watercolor.
In this painting, she uses bright and vibrant that seem to glow off the canvas.
She's another great example of an artist who incorporates negative space into her painting, as well as color, shape, and depth.
It's made mostly of lines, squares, and rectangles arranged to make the viewer feel like they're falling into the painting.
Cowie manages to reference the fragmentation between ourselves and the natural world by using watercolor, ink, as well as memories in the areas around her subject. The colors and shapes she uses in the majority of her work create dream-like images that manifest characteristics of urban architecture.
Cowie is represented by the James Harris Gallery in Seattle and the Elizabeth Leach Gallery in Portland.