Your artwork should be given its proper chance to shine, and this is why artists use varnish. They can protect the painting from unavoidable elements when it is being transported. Most artists would also recommend applying varnish if your painting were displayed outdoors or in a very humid environment. For some mediums like acrylic, using varnish can even add gloss or sheen.
Best Choice
Winsor & Newton Professional Acrylic Medium Gloss UV Varnish
Best Varnish for Acrylic Paintings
Winsor and Newton is a time-tested brand and is known for their acrylic products. The colors do not change even after the drying process. The varnish has the same quality, making it the best choice for acrylic painters. It offers top protection for acrylic paintings on canvas. It provides another layer to prevent damage from dust, friction, and UV rays. Also gives a slightly glossy finish without affecting the colors.
Check Price
Acrylic paints become more brittle in cold weather, so it is advisable to add the proper varnish. This will ensure that it is protected from the extreme temperature and elements like dust, friction, humidity, and harsh UV rays.
The Best Varnish for Acrylic Paintings: Comparison Chart
Neutral varnish brands provide a layer of protection without any effect on the painting. You can also choose a brand that has a certain degree of gloss effect and even mix the varnish for different sheen.
There is a wide array of varnish products with different price ranges and features. Here are four products that are considered as the best varnish for acrylic paintings.
First Impressions
The varnish has a thick texture, which indicates the strong protective nature of the product. It is quite heavy, so it is advised to wait until the paintings are already dry. For acrylic paintings, this could take 48 to 72 hours.
It is not recommended to use this varnish as a medium or gloss thinner. It should also not be applied on unfinished paint or absorbent surfaces like watercolor paper.
Performance
The varnish will dry out to an even finish, and is ideal for acrylic. It will protect from grease, dirt, and pollutants. The UV protective feature will improve lightfastness and also prevent fading and color shifts due to sunlight exposure.
The varnish can also be mixed with different sheen finishes to alter the appearance of the finished painting and show variations in the gloss. It has also been used for non-lightfast mediums like digital prints. You can easily remove it with the Winsor & Newton Professional Acrylic Varnish Remover.
Pros and Cons
Does not change colors and hues of the painting
Provides Strong Protection against dirt
UV Protection allows outdoor exposure
Easily removed with varnish remover
Easily removed with varnish remover
Cannot be used as paint medium
Needs long drying time before and after application
Final Thoughts
The product has a smooth consistency, and it would only take minimal time to fix the painting. It can also be mixed with different products to produce a different sheen. It is used by painters who need to have their painting transported. They will apply it prior to transport, and since they can remove it, they can reapply another coat before the exhibition.
Result
8.3
Winsor & Newton Professional Acrylic Medium Gloss UV Varnish is not risky since it is removable. Just make sure to put off the application until the painting is dry and clean. Some painters want to apply the UV Varnish to ensure that the painting is protected as soon as possible, but a wet surface can absorb the varnish.
Liquitex brand is known as a pioneer and expert in acrylic paintings. They have the widest selection of colors for both professional and novice/student painters. Their expertise extends to their varnish products for acrylic paintings.
First Impressions
The Matte Varnish is water-based and odor-free. It is one option that Liquitex offers. This variation offers a matte finish as it protects the surface of the painting from environmental factors and both hot and cold weather.
The matte varnish comes in different sheens, and you can mix them to customize. Applying matte varnish will unify the sheen for the entire artwork.
Performance
Liquitex 5216 Matte Varnish has a tinge of blue, which is a higher wavelength of light, so the hues remain saturated. The option to customize is highly appreciated, so they can still enhance the color palette of their paintings in a matte finish.
It is advised to curate and dry acrylic paintings for 48 to 72 hours before applying the matte varnish because it is non-removable. It is also recommended to check the test the color mix to ensure you have the desired sheen before application.
Pros and Cons
Ability to customize with a wide variety of sheens
Saturated hues due to higher wavelength
Water-based, odor-free and non-toxic
Permanent variant, important to ensure dryness of paint
May need more than one coat
Final Thoughts
The varnish itself dries fast so you need to rinse the brush while applying. The product has thin consistency so you may prefer to apply more than one coat.
Result
7.5
Liquitex provides customization features as they allow more options and colors. This allows more creativity, but the thin texture and permanent varnish need more caution before application.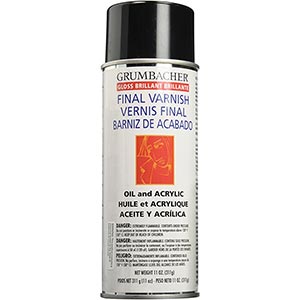 In general, artists would rather use spray varnish rather than applying varnish with a brush so they can avoid accidentally adding any brushstrokes from the finished product. Grumbacher has been a leading brand for ready-to-use acrylic spray paint and varnish.
Matte and Gloss Varnish formulations can be brushed or sprayed, but the formulation for spraying can be tricky. Ready-made formulations like Grumbacher Picture Gloss Varnish is a safe and convenient alternative.
First Impressions
Spray varnish is preferred because it reduces the risk of damage to the artwork with a less solid contact to the surface. However, there is a strong precautionary warning to ensure that the painting has dry — three to six months for oil paintings and three to five days for acrylic works.
Performance
The first step is to ensure that the painting is already dry. It should be set vertically so you can spray it evenly. For an effective application, shake the nozzle and spray on a "test surface" to ensure that proper function before spraying on the actual painting. The varnish can cause permanent damage if sprayed on a wet surface.
Pros and Cons
Spray Varnish allows easier application
Easy to apply multiple coats as long as the paint is dry
Does not yellow and quick to dry
Very sensitive to wet surfaces
Limited control over the amount of application
Not very economical
No control over gloss or matte finish
Final Thoughts
It is easy to use after the setup and the test spray. If the painting is simply for indoor display without heavy transport and exposure, spray varnish is convenient.
Result
7.3
For ready-made spray cans, you have to use the product according to the specifications. There is not much leeway to be creative like mixing with gloss or matte finish for different sheens.
Pour painting or fluid painting is a popular method for abstract painters. They would let the paint flow and mix by pouring them onto canvas. The design is not made with a brush, but only by tilting the surface to lead the direction.
One of the preferred mediums for pour paintings is acrylic because they have a thinner consistency than oil, and you can control the consistency by using acrylic mediums.
Sargent has established themselves as a brand that specializes in pour painting. They have varied products from acrylic paints, mediums, and varnish that can give you more control over your acrylic pour paintings. With a range of consistency and gloss levels, they help the artists' vision appear on the canvas.
First Impressions
This product is thinner than the other products in this study, and this is why it can be used as a medium. For acrylic pour paintings, they can be mixed in to add gloss to the colors.
The product has a thin consistency and odorless. Sargent products are acid-free and non-toxic.
Performance
Sargent Art Acrylic Gloss and Varnish is used as a pouring medium, being mixed with different colors of acrylic paints for the pouring method. This way, it will make the colors glossy.
Using the varnish as a medium may require some degree of trial and error if you're a beginner. It takes some practice since not all varnish brands have the same consistency.
It can also be applied as a varnish, but the consistency needs to be thinner. One coat applied with a brush is recommended. The varnish is quick to dry and gives the painting a translucent glaze with an even application. Upon drying, the varnish will dry to a permanent, waterproof finish.
Pros and Cons
Thin consistency allows it to be used as a pouring medium
Does not yellow
Acid-free and non-toxic
Using it as a pouring medium requires trial and error
Permanent finish thus requires extensive paint drying
Final Thoughts
One of the better traits of Sargent Art varnish is that it does not yellow. There is a tendency for varnished paintings to be saturated, but Sargent varnish remains consistent.
Result
7
The Sargent Art Acrylic Gloss and Varnish is designed as a varnish but is also marketed as a pouring medium. Since it is thinner, the degree of protection may not be as resilient to thicker varnishes.
Conclusion
Varnishing a painting was initially practiced solely to protect the artwork from the elements. It did not have any aesthetic purpose.
As more varnishing products were developed, some offered convenient alternatives and easier methods of application. Since the market became more competitive, the brands also became more creative. Varnishing products evolved to the point that they can enhance the painting in different ways.
Still, for most artists, the ideal varnishing product should be less intrusive to the original artwork. This is why the Winsor & Newton Professional Acrylic Medium Gloss UV Varnish gets the nod as the best varnish for acrylic paintings.
The Winsor & Newton Professional Acrylic has different gloss levels, and the Medium Gloss has the highest level of protection without affecting any change in the surface texture.