Choosing the best paper for acrylic paint can seem like a daunting task. With so many different types of papers on the market, each with its own benefits and drawbacks, it is difficult to know which one will best suit your needs or preferences.
This article will help you answer that question by reviewing five popular brands of paper in detail. We will also provide some helpful tips to make painting easier.
Best Choice
Strathmore 400 Series Mixed Media Pad
Heavy-weight paper with a vellum surface
An excellent value in addition to high-performance materials make Strathmore 400 Series Mixed Media Pads one of the best overall choices when considering cost vs quality.
Check Price
Why Use Paper for Acrylic Paint?
Acrylics are widely considered to be one of the most versatile types of paint which means that it's used for a wide variety of projects including murals, graphic design work, or even fine art paintings. They're also extremely popular with students because they require no special storage conditions and can be cleaned up quickly using soap and water.
Paper for acrylics offers several benefits over other painting substrates, including the following:
A lighter weight option than canvas or board, which makes it easier to frame and hang;
A more affordable option, particularly if you need a large number of sheets for your project;
The ability to add texture through the use of crumpling or sanding after drying/curing (this is not possible with board).
Paper's biggest drawback is that it can buckle when exposed to water over an extended period. If you use wet on wet techniques (applying paint directly onto still-wet layers), then the paper will warp and buckle because it has no "give" while thicker materials like boards have more give allowing them to resist warping while taking on moisture from adjacent areas.
Types of Paper for Acrylic Paint
Acrylic Paper
Acrylic paper is designed specifically for use with acrylic paints. It offers many of the same benefits as other papers, such as a lightweight and economical alternative to canvas or board, but it also has some unique features that set it apart from its competitors.
Made using cotton fibers which are then bleached or unbleached.
The resulting sheet is extremely smooth under your brush whether dry or wet.
Watercolor Paper, Heavyweight
This type of paper has small bumps called "tooth" which allow for better absorption resulting in vibrant colors no matter what brand, type, or texture you choose. It also works well when wet so it can be used without fear of smudging if your final painting will need fine details like those found in watercolors.
Watercolor paper usually comes in two varieties: hot press (smooth) and cold press (slightly textured). There's not much difference between these types except their degree of texture. For example, if you want smoother results when painting than what would be possible with traditional watercolor papers, then you can opt for a hot press.
The color gamut of watercolor paper is more limited than some other types, meaning that there are fewer colors it can reproduce.
It's also made from either cotton or cellulose fiber which makes the surface less smooth when dry but provides better results when wet.
Marker Paper
This type of paper is often used for quick sketches or concept art. If your final piece will not require a lot of detail, then marker paper is an excellent choice since paints are less likely to soak into this type of material than they would on watercolor paper resulting in smudging and bleeding.
Rough Sketch Paper
This type of paper has a rough surface which allows the paint to soak in quickly and easily so every brushstroke shows up with no problem on your final piece. This quality makes it an excellent choice if you're doing sketching or life drawing where recreating fine details is important.
Poster Board/Cardstock
These papers are much sturdier than other types since they are often for presentations, signs, or posters. They are also available in a variety of colors and finishes so you can find one that matches your project.
Canvas Paper
These papers consist of either cotton or synthetic fibers that are pressed together using heat and pressure. The result is a lightweight canvas-like paper that's versatile enough to use with all types of paint including acrylics.
Mixed Media Paper
This type of paper is designed to absorb a variety of different types and brands of paint. Be sure that you're using the correct kind for your desired results because some mixed media papers repel acrylics which will ruin any project using them as a base.
Synthetic Paper
This type of paper is designed to mimic the look and feel of more expensive materials like canvas. It's extremely versatile and can be used with all types of paint, but it has a tendency to wrinkle which makes acrylics difficult since they dry quickly on this material.
Canvas Board
This board consists of either thick or thin layers (or cardboard covered in cloth) that are bonded together under pressure into sheets using synthetic glue for stability. The result is an inexpensive alternative to stretched canvas boards although you sacrifice some quality along the way so it's best suited as a base if your painting won't need fine detailing or precision lines.
Professional Grade Paper for Acrylic Paints
This paper is designed specifically for use with acrylics. The natural fibers can withstand the drying process without warping, curling, or wrinkling which makes them perfect for large-scale paintings. This type of material also absorbs paint easily so brushstrokes are preserved and visible on your final piece even if you're using many layers of color to create detail or texture in your artwork.
Choosing the Best Paper for Acrylic Paint
This type of paint requires a smooth, nonabsorbent material that can withstand drying without warping.
Using the wrong type of paper can cause your acrylic paints to dry slowly, change colors over time or even ruin them so it's important you do some research before making a purchase!
Thickness/Paper Weight
Weight is the most important factor to consider because acrylic paints are thicker than other mediums so it's especially crucial that your paper can hold up under pressure without showing signs of wear.
The thickness and weight tolerance of each paper will determine how much wetness it can take before warping or buckling. The more water the paint absorbs, the more likely a substrate is to warp from its original flat state.
Paper with a lower weight rating has less resistance to bending while higher quality papers have greater resistance so keep this in mind when making your choice.
The best paper weight for acrylic paint is for at least 100 gsm on any type of art paper but some artists prefer thicker options which allow for more paint absorption and better results.
Texture/Surface Finish
When dry, some papers have more texture than others causing issues with paint sitting on top rather than soaking in naturally creating brush strokes unless dried slowly over time. When painting acrylics onto paper that has too much texture there can also be problems with bleeding or color transference.
Acrylic paintings vary greatly depending on the artist but there are some general guidelines when it comes to texture and finish.
Smooth
This is best suited for finished pieces where detail, precision lines, or brush strokes should be visible even after many layers of paint have been applied or if the artist is applying multiple colors to achieve a specific effect. A smooth surface also allows for watercolor-like results when wet media are used on top of your acrylic work!
Vellum
This type has an eggshell finish which means it's slightly less slick than plain paper so brushstrokes will show up more prominently and be easier to see in finished pieces where precision matters (and they don't need to blend easily with other mediums). It can hold several layers without showing signs of wear but may require that you use thinner coats compared to smoother surfaces even though this material absorbs color well.
Textured/Unfinished
This option is best suited for creating texture, adding dimension, achieving a more rustic or 'artistic' look and feel to your work, and for pieces that will be painted over with other mediums which means it's not ideal if you're looking for a smooth surface that can hold up well under pressure.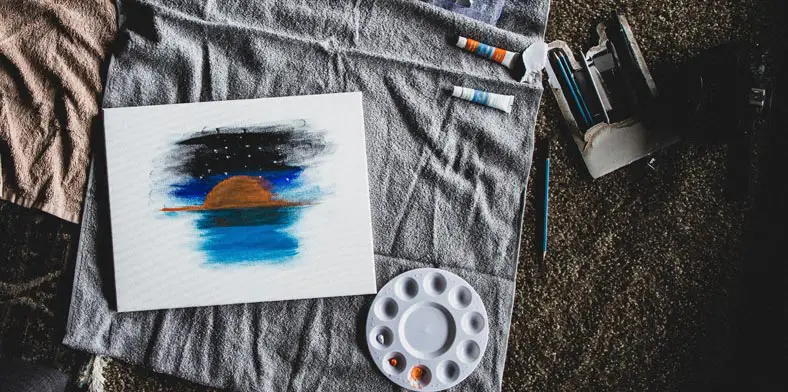 PH Level
Acrylic paints are slightly acidic so it's important to use acid-free paper when painting with them. Slight variations in pH levels can cause materials to give off fumes, affect how your work dries over time, and change the color of pigments!
The best papers for acrylics have a neutral or alkaline
pH
which means they're not too basic (alkaline) nor too acidic (acidic).
This is another reason why using lower quality products is usually less desirable even if their price tag seems more appealing because low-cost options may deteriorate faster than higher-end choices that are specially designed for these mediums.
Absorption and Tooth
Acrylics are water-based which makes them more lightweight than oils but they're also thicker inconsistency with a higher concentration of pigment making it important that your paint can easily sink into and sit on top of your surface rather than bead up or pool around its edges.
Paper with low absorbency can cause problems like color transference, bleeding, warping, etc… while papers made specifically for these mediums are intended to provide maximum support without sacrificing aesthetics or performance.
The absorption rate is most often determined by the weight rating mentioned above.
Paper Color
Color is a factor that's often overlooked when choosing the best substrate because most artists buy according to weight and don't think about how colors can affect or change their finished piece.
Lighter color papers will show more texture than darker ones which makes them especially suitable for detailed work where precise lines need to be drawn with acrylics (or other mediums) since brushstrokes will stand out in contrast against shadows.
Know what you plan to paint before buying if this matters – some people like the look of the white canvas while others prefer high-quality black paper instead.
Paper Size And Number of Sheets in the Pack
Finally, it's important to know how many sheets of paper come in each pack and what their dimensions are.
This will determine whether the size is appropriate for your project, helps keep the cost per square foot down, and lets you compare one product with others when considering price vs value or materials used/quality of end result, etc…
You may not need to buy more than one package if they're large but it's also good to know how much space is required for safekeeping in case you want to choose a different size later on or stock up while supplies last!
Acrylic Paper Comparison Table
1. Strathmore 462-111 400 Series Mixed Media Pad – Best Overall
Strathmore 400 Series Mixed Media Pads are designed for artists who need to sketch, plan, and work out ideas. They're perfect for on-the-go designers.
First Impressions
It comes with 15 sheets of acid-free, 184 lb/300 gsm paper that's both bleed resistant and has a slightly toothy surface which makes it ideal for watercolor or acrylic paint while protecting the integrity of your final piece!
Performance
Strathmore 400 Series Mixed Media Pad is made from acid-free papers heavy enough for drawing and sketching even in graphite along with everything else you might want such as watercolor, charcoal, litho crayon, pencils or acrylics.
The paper is perfect for dry and wet media while still being durable enough to handle the toughest techniques. Its heavyweight paper vellum surface creates an excellent base layer for different types of medium.
Strathmore 400 Series Mixed Media Pads are also great because they provide an excellent value in addition to their high-performance materials making them one of our best overall choices when considering cost vs quality.
Pros and Cons
High-performance materials
Perfect for dry and wet media
Durable
Acid-free
The paper has ivoryish undertones
Sometimes not wrapped very well
High price
Verdict
This traditional pad from Strathmore is a great option for beginners and experts alike. Get a pad that's easy to work with and doesn't disappoint!
2. Canson XL Series Oil and Acrylic Paper Pad – Best Canvas Paper for Acrylics
Canson XL Series Oil and Acrylic Paper Pad is a pad of drawing paper that has been used by artists for many years. Canson, which was established in 1757, produces some of the finest quality papers available today. These pads are made from 100% cotton rag with high alpha cellulose content, giving them their superior characteristics.
First Impressions
Canson XL Series Oil and Acrylic Paper Pad is an excellent paper pad for artists, photographers, or anyone who needs quality paper. The pad has heavyweight sheets of 290 gsm with a smooth surface that can be used with either oil or acrylic paints.
Performance
Canson XL Series Oil and Acrylic Paper Pad has 24 sheets with dimensions that measure 9 x 12 inches which makes it best suited as an alternative painting surface rather than one you can easily carry around due to its weight!
This artist-grade drawing paper worked very well with oil pastels. It also performed nicely using colored pencils and even watercolors (although you need good quality watercolors). As expected, because of its performance capabilities, there were no issues when used with acrylic paints either – wet or dry!
It's also made from acid-free materials so there are no harmful chemicals added during manufacturing making it ideal if your work may be exposed to children or pets.
The good news is this product comes at a very affordable price point – especially when considering how many different paints or mediums you could adapt for use with the same sheet of paper!
Pros and Cons
Canvas like texture
Heavyweight paper
Acid-free materials
Not easy to carry around due to its weight
May curl a little if you use a lot of heavy/thick paints
Verdict
This pad is a great choice for those who enjoy the feel of canvas but want to paint on paper. This pad is made from heavyweight paper that dries quickly while being resistant to oils and acrylics without priming or preparation!
3. Arteza Acrylic Pad, Pack of 2 – Best Quality Acrylic Paper
Arteza Acrylic Pad, Pack of 2 is a great tool for artists and crafters. It can be used to create watercolor effects with acrylics or other mediums. This pad is also recommended for use with gouache, tempera, casein paints, pastels, and crayons.
First Impressions
The paper inside measures 14 x 11 inches (35.56 x 27.94 centimeters) and provides 16 sheets per pad. Heavy 400 gsm paper with linen texture is non-buckling and provides the perfect surface for acrylic paint.
This product has 100% acid-free construction so it can be used safely by kids or pets if necessary making them an excellent choice when considering safety!
Performance
Arteza Heavy 246-lb Art Paper has little texture which makes it ideal for use on almost any surface while still providing enough tooth that you won't easily see through paint layers even on lighter colors.
Plus, other handy qualities like glue-bound edges mean that pulling out finished pieces is always easy without accidentally tearing them.
Pros and Cons
Heavy 400 gsm paper
Linen texture
100% acid-free
The paper can buckle when using a lot of water
Verdict
This pack of two Arteza Acrylic Pads is a great option for beginners or anyone who wants to experiment with many different materials.
4. Bellofy Sketchbook Mixed Media 100 Sheet – 9×12 in Sketchpad – Best Budget Acrylic Paper
Bellofy Sketchbook Mixed Media 100 Sheet – 9×12 in Sketchpad is a spiral-bound sketch pad that can be used for mixed media art projects. This product includes high-quality paper and has an appealing design. It also features hard cover, so you can take it with you anywhere without worrying about it getting dirty or damaged during your travels.
First Impressions
This sketchbook is a great size! It's not too big or too small. It comes with 100 sheets of paper, so you don't have to worry about running out before completing your project. The spiral-binding makes sure that pages stay in place while working on your sketches or other mixed media projects.
Performance
This sketchbook comes with a heavyweight of 160 gsm which is enough to resist buckles even when using heavier textures like pastels or acrylics.
It works well as both an art journal and sketchpad because each page can be torn out if needed.
The paper resists tearing and scuffing so that your creations last long past the first drawing. It's also made from relatively inexpensive materials which makes it an excellent choice if you go through sketchbooks quickly!
Pros and Cons
Hardcover spiral-bound sketchpad
100 sheets
Affordable price
Not a pure white tone (greyish)
Some people say the paper is not as smooth and thick as described
Verdict
We would recommend Bellofy Mixed Media Sketch Book to any artist or student looking for a sketch pad that comes with high-quality paper. The size is perfect, and the product also has an appealing design due to its hard cover.
5. Deviazi Mixed Media Sketchbook 100-Sheets Acrylic Art Pad – Best Student Grade Acrylic Paper
Deviazi Mixed Media Sketchbook 100-Sheets Acrylic Art Pad is a sketching pad that is perfect for both children and adults. The paper has a smooth texture which allows the paint to be applied smoothly and evenly. This makes it easy for artists of any skill level to create beautiful art.
First Impressions
This Deviazi Mixed Media Sketchbook 100-Sheets is a lightweight sketch pad with 160 gsm paper that measures 9 x 12 inches. It provides 100 sheets per book making it perfect if you're looking to purchase in bulk!
Performance
This sketchbook has a soft and smooth texture to it which makes colors appear vivid, rich, and sharp.
The paper feels thick, but it is still lightweight. It has a nice feel to it and does not easily rip or tear. The pages are perforated which makes them easy to remove from the pad without ripping which can be helpful if you want to frame your artwork later on.
Made of acid-free materials these pads work perfectly in a classroom setting where students need high-quality products but don't have large budgets.
Pros and Cons
Lightweight sketch pad
100 sheets
Soft and smooth texture
Price
The paper warps
Some people find it too thin for acrylics
Verdict
Deviazi Mixed Media Sketchbook 100 Sheets Acrylic Art Pad is perfect for both children and adults. It comes with everything you need to create beautiful art pieces which you can frame or give as gifts to friends and family members!
Tips on Preventing Paper Warping
Painting in a warm location can help prevent warping and buckling.
Use an easel so that you have something solid to lean your paper against while painting without worrying about it falling over from the weight of wet paint.
Keep humidity levels around 50% when working with acrylics because higher levels encourage wrinkles and other problems like bubbles in your paints.
Keep the edges clean when working with acrylics because the paint will tend to accumulate along these areas more quickly than in the middle where you're actually painting! If excess paint ends up on your paper it may cause uneven drying times or even warp depending on how thickly painted some portions are compared to others.
Use masking tape around the outer sections of a sketchbook while you work so that any excess wet paint accumulates there instead of causing wrinkled spots elsewhere. This also helps prevent smeared lines between colors if they happen to get too close together by accident or if more water is added to them when you're working.
Avoid painting in the corners of your sketchbook if possible because they are more likely to buckle or warp due to paint buildup there!
Let finished paintings dry for at least 24 hours before trying to move them around, stack them up against other canvases, or otherwise handle them roughly after this time frame has passed unless you want warping problems to occur which could potentially ruin your piece entirely.
Store pieces flat instead of vertically if possible so that there's less pressure on one side than another which can cause warping problems down the line after your piece is completely finished and dried out.
Make sure the paper isn't exposed to direct sunlight or drafts.
The best option is always going to be a thicker paper that won't warp or curl no matter how thick the paint you use happens to be. If you can find one without too much texture this may help with not seeing through layers which again will result in better potential results so keep an eye out for something around 140 gsm at least.
If you're working on a budget then consider purchasing smaller pads rather than one large pad for easier storage while still providing enough product quantity if necessary!
People Also Ask
Why Use Gesso on Paper?
Acrylic paint is a type of water-based paint which means it can warp and buckle paper if not applied on top of something that will prevent this from happening. Gesso, as the name suggests, acts as a base coat to protect your paper from warping or buckling due to acrylic paints being added over top!
Why Are My Lines Smearing When Drying?
This is usually due to excess water being added which can cause the paint underneath to become more fluid. This will lead to it moving around and smearing especially if you have thick layers of paint on top of one another or are using a wet brush for whatever reason.
Will Acrylic Paint Bleed Through the Paper?
Yes, it can if the paper is too thin or not enough layers are applied. This isn't always a bad thing since this can lead to interesting effects in some cases with certain types of media but may also result in damage to your final piece so be aware and take precautions as needed!
Is Paper Really a Reasonable Alternative to Actual Canvas?
Yes, it is! In most cases, you won't be able to tell the difference between paper and a finished painting on canvas unless looking more closely. Paper will warp over time depending on how thickly the paint has been applied but by and large, isn't something that needs to be considered when working with acrylics in this fashion.
Why Students Shouldn't Paint on Cheap Paper or Canvas?
Not only will the paper or canvas warp over time but the paint won't look as good either since it has to go through more barriers before reaching its final destination. This means you likely won't be able to get great results unless using high-quality materials which are certainly not cheap!
Should I Varnish My Acrylic Painting on Paper?
This is entirely up to you! This step isn't necessary but if you do decide to varnish your piece afterward it will protect the paint while also providing a shiny look which may be more desirable depending on your tastes.
The Bottom Line
Regardless of the manufacturer, the type of paper used in this medium is always thick but still flexible so it won't tear easily even when several layers are applied (which makes thicker paper great because there's less risk involved). The weight also varies greatly from one product to another so make sure you check what your requirements are before buying anything online!
The best painting papers should have good resistance against warping, curling orling as well as sizing or glue binding if the manufacturer has used either of these to keep your paper in top condition! Texture/surface finish is also important because it determines how well the paint will absorb into the material so you need a smooth or slightly rough surface depending on what kind of work you plan on doing.